Freshman Experience
Overview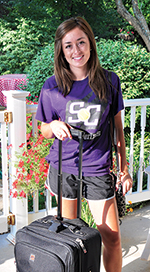 New freshman Ashley Smith's enrollment this fall completes perfect attendance at Southwestern College for her family – her parents, Randy '89 and René '85, met playing tennis at Southwestern, and sister Kelsey '15 is a junior.
We asked Ashley and René to reflect on what it's like to be a first-time freshman and a second-time Moundbuilder mom.
They'll be telling their first-year stories here!
Click on a the links below for the latest entry:
Recent News