Freshman Experience
Freshman Blog
September 19, 2013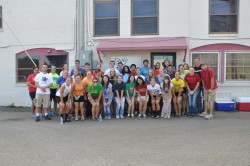 This past Wednesday I had the opportunity to be a part of a very special service project here in Winfield. The Chapel leaders organized a service project to help out an organization called Eagles Nest who's focus is helping local women and children who are in need. When I found out about this oppurtunity I was so excited and ready to be a part of it!
As soon as we loaded up on the bus everyone seemed so eager to help. Excitement was in the air! When we arrived at the location it was very apparent that they needed our help and that they were so grateful that we were there.
First, we were introduced to the location and the organization leaders. Next we said a prayer and then it was time to start our project. We were all split into groups and we went to our stations. Some of us were sent upstairs and others were sent to the historic building's basement. This was very interesting because the basement had no flooring. It was simply just dirt.
The project that we took on looked overwhelming at first. But just like always, my fellow Southwestern friends came together ready to accomplish everything. In less than an hour we had finsished working and had gotten so much done!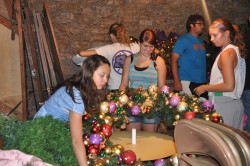 Being a part of these projects really makes Southwestern special. Prior to this event, I had not gotten the chance to attend Chapel at SC, yet everyone was so welcoming and friendly. I felt as though I fit right in as if I had been apart of the group for a long time! It really is awesome that I was able to be apart of this because its a lot of fun to be involved in a special project that truly does impact others in amazing ways.