BIM Week

The 8th Annual Builders in Ministry (BIM) Week at Southwestern College is dedicated to providing educational opportunities that nurture and enrich Christian leaders-- lay and clergy-- for effective living and ministry.
Building a "Culture of the Call" in your college and church
February 20-21, 2014
---
We are pleased to announce that CIC NetVUE is partnering with the Institute for Discipleship at Southwestern to host this conference.
Our hope is to provide theoretical and practical applications that assist college and church personnel in their efforts to help students (ages 12-23) discern their call and purpose in life.
We encourage participation from:
·

Area NetVUE schools
·

Area schools that might find the conference of interest
·

Church pastors, youth directors and Christian educators
·

Board of Ordained Ministry members in the United Methodist Church
·

Other denominational executives
·

Campus ministers
·

Southwestern College alumni who are in ministry
2014 Conference Leadership
Rev. Dr. Quincy D. Brown

The Rev. Dr. Quincy D. Brown is a native of Gainesville, GA. He received a Bachelor of Science in Electronic Engineering Technology from DeVry Institute of Technology, a Master of Divinity degree from The Candler School of Theology at Emory University and a Doctor of Ministry degree from The Gammon Seminary at The Interdenominational Theological Center.

Dr. Brown is an ordained United Methodist minister. He served as the Minister of Outreach at the First United Methodist Church in Gainesville and the Executive Director of Gainesville Urban Ministry from 1995-1997. In 1997, he was appointed as the Elizabeth Walker Lanier Campus Minister and Director of Servant-Leadership at LaGrange College. He was the recipient of the 2003 Chaplain of the Year Award presented by the United Methodist Higher Education Foundation. Dr. Brown is married to Dionne Moore Brown.

---

Rev. Valerie Robideaux

A deacon in The United Methodist Church, Valerie serves as the Director of Professional Discernment. She coordinates programs and career coaching that helps students identify their passions, values, and interests as they explore their professional goals. Specifically within the Christian Leadership Center, Valerie works to prepare undergraduate Christian leaders for the practical and theological challenges facing the church and the world in the 21st Century. Valerie received her B.A. in Religious Studies from Centenary in 2003 and completed her Master of Divinity degree at Candler School of Theology in 2008. Valerie and her husband, Joseph Robideaux of Lifewater Church, have two daughters.

---

Doug Morphis

Doug Morphis is the Co-founder of the Counseling and Mediation Center. He is a Diplomate in the American Association of Pastoral Counselors, an ordained United Methodist Minister, and a Licensed Clinical Marriage and Family Therapist in the State of Kansas. He has a doctorate of Ministry in Pastoral Counseling from St. Paul School of Theology. His project involves clarifying God's call as the context changes. He is married to Gayle and has six adult children and six grandchildren.
---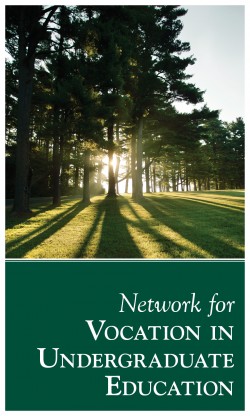 About our Partner
NetVUE has its roots in the Lilly Endowment's major initiatives on 88 college and university campuses over the previous decade through its Programs for the Theological Exploration of Vocation (PTEV). As Lilly's direct support of the PTEV effort concluded, The Council of Independent Colleges (CIC) was asked by a number of college and university presidents to develop a national campus-supported network to extend and deepen the conversation about vocation. Since the fall of 2009, 178 colleges and universities have joined NetVUE, to foster the theological exploration of vocation in their campus communities. These campuses, most of which are rooted in the liberal arts, represent a range of religiously-affiliated institutions as well as a number of secular institutions. All show a desire to address the theological and intellectual implications of vocation, both in the classroom and in student life. In addition to the NetVUE-sponsored biennial national conference, the network also supports regional and themed gatherings hosted by its members.
---
For more information, contact Jessica Falk, Director of Camps and Conferences, at dir.campconf@sckans.edu or 620-229-6141.
---
Information:
---
Builders in Ministry on Social Media:
---
Watch last year's Parkhurst Lecture by Dr. Drew Dyson.
After viewing the video, please share your thoughts on our
Builders in Ministry Blog!
---