Ministry
News
July 28, 2008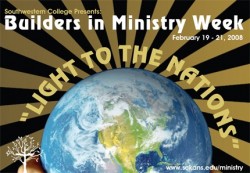 Second Annual Builders in Ministry Week!

Join us for Builders in Ministry Week. This three-day conference will nurture and enrich Christian leaders -- lay and clergy-- for effective living and ministry. All Moundbuilder alumni, current students, and friends of SC who are or may become involved in ministry are welcome to attend. See more details about this exciting conference by clicking on the above picture! Hope to see you there!!!

Chapel Online!!
Come and participate in our weekly chapel services that are held at 11am CST every Wednesday by logging onto www.moundbuilder.com ! These services are led by students who have a passion for serving God in worship and ministry. Join us for a time of worship and celebration to our Lord! If you would like to access past Chapel services, please go to www.sckans.edu/~builder/Chapel.htm

BeADisciple.com
As the Word of God spreads around the world, there has been an increasing need to create a cross cultural community of believers that share the same faith. The Richard and Julia Wilke Institute of Discipleship at Southwestern College has responded to this need and as a result have started the BeADisciple.com online community. This is a place where believers all over the world can gather together to share their faiths, find out about happenings in different parts of the world, and network better amongst each other. The site has not reached is official launch yet but interested people are encouraged to join so that webmasters are able to get feedback and improve the site before its official launch.