Phi Delta Theta
News
November 24, 2010
On Saturday, Nov. 20, members from the Phi Delta Theta fraternity at Southwestern College provided Thanksgiving dinner for five families in Winfield.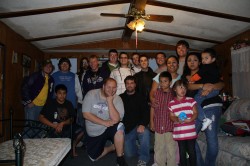 "This is an event we have been doing for several years now and with the success and the joy it brings the Fraternity to help families in the community, we will continue to do this project as long as possible," says D.J. Wilson, president of Phi Delta Theta. "There were 13 total members of the 18 that were able to make it out and deliver the food to the families."

The items the fraternity provided to the families were turkey, ham, stuffing, gravy, potatoes, vegetables, rolls, salad and dressing, apple pie, and whip cream.

Phi Delta Theta plans to help out the youth of the community at Christmas. The fraternity will receive 20-25 names of children through Eagles Nest and Big Brothers Big Sisters and will provide presents for them.