Phi Delta Theta
News
January 11, 2011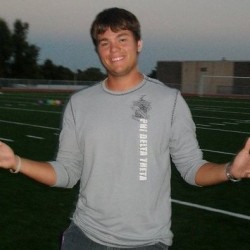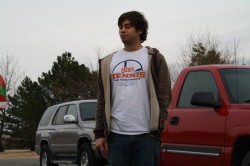 Phi Delta Theta at Southwestern College recently said goodbye to two of its members. Jacob Tafoya and DJ Wilson attended their last Kansas Zeta chapter meeting in mid-December. Each of these young men had an impact on the chapter during their active years and will be missed greatly. This being said, we are all a little thankful to have a bit more breathing room in our tightly packed chapter room.
DJ Wilson most recently held the President position in the chapter. "DJ stepped up at a time when we really needed someone to" said Tristan Walters. "He wasn't the most experienced person in the chapter, but he had the courage to do it. When all is said and done, he did a great job with the tools he had." Hunter Rockhill, who had recently become close to DJ, described him as "...a great guy, both in and out of school. He is just like any other brother; I can depend on him for anything and vice versa. He is a standup gentleman. I really enjoyed the time when him and I watched the KU-KState game at his house and grilled steaks on his back porch." DJ will be continuing the Master's program here at Southwestern before moving on.
Jacob Tafoya held the Vice Presidency before he graduated in December. In his seven semesters of being a member of Phi Delta Theta, Jacob also held many other positions such as Phikeia Educator and Community Service Chairman. Jacob's fellow pledge class brother Jordy Train had many things to say about Jacob. "Jacob Tafoya is the kind of guy who turns out to be the person you'd least expect him to be. He started out for me as a dude who I thought for sure was going to flunk out at semester, and who was a complete tool (mostly because he didn't talk). But, I realized more and more that he was a committed person and when he set his mind to do something it was sure to get done. I also realized that he had a great lesson to teach a guy like me: you don't always have to be the first to speak when making a decision. He's a person I've grown to respect and admire for his hard work and his simplified view on life in general. We pledged together fall of our freshman years, and since I'll be going a full five years I have to spend a year and a half as an active without him. It's going to be hard getting used to not having him as a go-to guy for all of my crazy off the wall ideas, and I'm definitely going to miss someone to get Taco Bell with at 3pm on weekends when we finally wake up." Tristan Walters also had fond memories of Jacob. "I've lived with Jacob from the start of college. Many things changed over the years, but Tafoya always stayed the same. I'm proud to call him my best friend and I'm going to miss my sitting partner." Jacob is spending a month in Thailand with his uncle and is then considering graduate school or entering the work force.
Although it is always hard to say goodbye to our Brothers after they leave, we all must realize that Phi Delta Theta is a lifelong fraternity. The memories and experiences we have should not come from a short four years spent in college, but are intended to be spread out during an entire lifteime.