Phi Delta Theta
News
January 18, 2011
Clint Dick, Hunter Rockhill, Justin Tinker, Jordy Train, and Jessie Riggs had the pleasure of attending different Phi Delta Theta conferences in St. Louis during the first week of January. Clint, Hunter, Justin, and Jordy were Recruitment Bootcamp(RBC) attendees and Jessie was the chapter's delegate to the President Leadership Conference(PLC).
Before they were subject to the busy schedules of their respective conferences, the five men were treated to a gift by Kansas Zeta alumnus Warren Bergquist, who currently resides in the St. Louis area. Bergquist provided rooms at a 4 star hotel in St. Louis. "It is always awesome when alumni get involved in our activities" said Jordy Train. "It helps us see that we are in a lifetime organization. For Warren to pay for a hotel room for us, that speaks a ton about his feelings about Phi Delta Theta and we all appreciated him."
After the overnight stay, the men got to work. The RBC delegates attended workshops throughout several days about Social Excellence and received priceless knowledge to help Kansas Zeta recruit. Recruitment is the lifeblood of any fraternity. Clint Dick felt that RBC was " a completely new experience for me in the aspect of Phi Delta Theta...Not only did I have the opportunity to meet a countless amount of fraternity men from across the continent, but I was introduced to a new aspect of the art of recruiting. I think because of my experiences at the conference, Kansas Zeta will be able to bring in an outstanding recruitment class in the coming semesters." Hunter Rockhill echoed Dick's positive experiences. "At the end of the whole session, it was awesome to see all of the Phis from different places across America and Canada come together and have a great experience. All in all, I wouldn't trade the experience I had at RBC for anything." Being a veteran of Phi Delta Theta conferences, Jordy Train utilized his time to do "a ton of networking with people from different chapters in addition to reviewing what I had learned at past RBCs. Hopefully meeting all of these people will help me to accomplish one of my goals; I would like to get a job working for Phi Delta Theta." Overall, the men reported having an excellent time.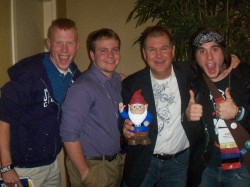 Hunter, Jordy, and Justin are pictured with Daniel James, a hypnotist entertainer at RBC, and Norman Nome, Kansas Zeta's Mascot.
Jessie Riggs had a somewhat different experience at President's Leadership Conference. As can be inferred from the name of the conference, PLC is for the President of each chapter of Phi Delta Theta. Therefore, the conference focused on techniques to manage internal and external chapter operations. In addition to this vital knowledge, Jessie was able to learn basic leadership principles. Jessie's experiences included "the opportunity to meet many other chapter Presidents from many different areas. During the conference we were split into mini-chapters of 10 people. I got to know them each pretty well. The discussions we had about the fraternity truly benefitted each mini-chapter member, no matter what his chapter was like at home."
Of conferences, Jessie said that they "are a must for any Phi Delt. It helps you see both the big and small picture better than just sitting at your home chapter." Conferences are often an energizing factor for the chapter. Tristan Walters said that he "loves when guys get back from Phi Delt conferences. Everyone is always ready to dive in head first for what needs to get done because they believe in what they are doing."