Worship Outreach
World Witness Team
World Witness Team is an outreach team comprised of both international and local students. Members come from countries such as Indonesia, Mexico, China, Zimbabwe, Singapore, and the United States of America and are committed to passionate worship and the sharing of cultural understanding. World Witness Team visits churches to worship with them and testifies of the greatness of God over all nations.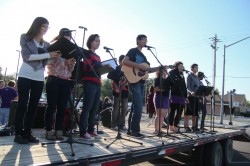 The team is currently student facilitated by Caleb Chua. If you are interested in becoming apart of World Witness, please apply with an application. Or email Martin Rude, the director of Worship Outreach, for further information.
World Witness has a full calendar of events.
November 14 - United Methodist Church in Attica, Ks
December 6 - Grace United Methodist Church in Winfield, Ks
World Witness will be sharing at First United Methodist Church in El Dorado, Ks.