News
March 31, 2010
Southwestern College in Winfield will honor Kim Mercer, the 2010 Marilyn McNeish Special Education award winner, during the Educators Hall of Fame induction ceremony on Saturday, April 17, in the reference room of the Deets Library.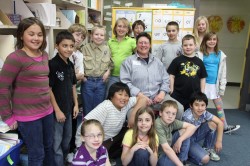 Mercer, a 1986 graduate of Southwestern College, has provided social work services to Winfield youth and families since 1986. She is the school social work program coordinator for USD 465. She offers direct social work services at Lowell Elementary and Country View Elementary as well as being involved in district activities. Mercer says she earned three degrees from Southwestern and is appreciative for the solid liberal arts education she received at SC. She decided on social work because she enjoys working with children.

"I enjoy working with children and families and offering support to help them move in a more positive direction," Mercer says. "I work with colleagues who are passionate about helping children and families. And my favorite role is to connect generous donors in the community to children and families who can benefit from their generosity. I like that part, I prefer to do my work behind the scenes, and smiles from kids are enough."

Mercer is grateful to receive this prestigious award.

"I have great admiration and respect for the McNeish's," Mercer says. "To get an award with their name on it through their association with Southwestern College is very much an honor. For me to feel successful in my work, awards aren't necessary but are very much appreciated."

There will be a reception and plaque unveiling at 3:30 p.m. followed by the induction and presentation of Mercer along with the Educators Hall of Fame inductees.