General Information
What is Amp It Up?
A five-day summer camp on the beautiful campus of Southwestern College, where students will be mentored, taught, and will have the opportunity to perform with Christian bands and artists. Choose one of the tracks – songwriting, lead/background vocals, rhythm guitar, lead electric guitar, drums, bass, piano, keyboard and sound technician.
---
When is Amp It Up?
May 29 – June 2, 2018
---
Who should attend?
The camp experience is geared towards high school students, grades 9 – 12.
---
Where you will stay?
All participants have the opportunity to be housed in Wallingford Hall. Festival counselors will live in each wing of the hall and will participate in activities alongside students.
---
What should I bring?
Bedding (sheets or sleeping bag)
Bath mat (optional)
Bath towels
Personal hygiene items
Bible
Clothes for 5 days
Hand soap (for residence hall bathroom)
Water bottle
Small bag/backpack to carry around
Instruments (w/ amps, pedals, etc)
Pencils/pens
---
What will it cost?
The current registration rate is $300. After March 1, the rate will go up to $350.
A special early-bird discounted tuition rate of $250 is available to students who are sponsored by their church by July 8, 2017. After July 8, there will be an discounted rate of $300 until March 1, 2018. After March 1, the tuition rate becomes $350. The tuition includes lodging, meals, activities, and instruction.
---
What facilities will you use?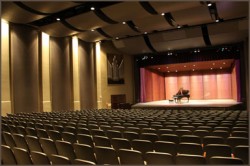 All classes and rehearsals will be on the Southwestern College campus, a safe and accessible college located on a hill on the east edge of Winfield, Kansas. Many performances will be in the new state-of-the-art Richardson Performing Arts Center, dedicated in October 2011.
---
How do I apply?