Philanthropy Board
RFP Form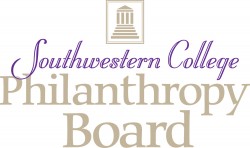 Each spring, the Southwestern College Philanthropy Board (SCPB) distributes a new request for funding proposals. Below is the 2011 RFP. The focus of this RFP was to aid organizations that wanted to expand an existing program. The board hoped to expand the capacity of existing programs in a time when funding was (and continues to be) scarce for nonprofit programming. Thank you to all organizations who applied. We look forward to posting a 2012 RFP in the spring, so please check back.
RFP
The SCPB offers a total of $3,000 to one or more programs that have been in existence for at least one year, and are in need of funding for improvements. Programs that meet a need of Vision 20/20 and collaborate with the college-aged population of Cowley County will be given priority.
Part I: Requirements
Eligibility requirements:
Funds must enhance a pre-existing program that has been in existence for at least one year. (Please provide one form of institutional documentation of program existence, i.e. meeting minutes, budget item, press release, etc.)
Program must serve the Cowley County population
Applicant must be 501(c)(3) non-profit organization in Cowley County
All indicated changes must be implemented by March, 2012
Part II: Application Responses
Please provide a brief description of organization's history, mission, vision, and goals. Include information about the target population.
Describe the current program design. How would increased funding enhance the program? What changes will you make?
How will this grant make a meaningful difference in your community?
How will you measure the impact of the new program changes? Include estimated numbers.
How will receipt of this grant align with the vision and the mission statements of the organization?
Will your program meet a need of Vision 20/20 and/or collaborate with the college-aged population? If so, how?
Part III: Additional Attachments
Please include the following:
Grant Application Cover Sheet
Application Responses
A copy of the organization's 501(c)(3) designation letter
Copy of the organization's most recent Form 990
Current program operating budget showing both income and expenses
A proposed program operating budget including the intended program improvements
Part IV: Post-Evaluations
If awarded, the non-profit agrees to participate in an on-site interview evaluation conducted by Southwestern College Philanthropy Board. The non-profit will also be held accountable for the improvements presented in this application.

Important Dates and Deadlines
Grant Proposals must be submitted electronically by 5:00pm of Friday, March 25, 2011 to scpb@sckans.edu, or mailed to:


Southwestern College Philanthropy Board
Division of Social Sciences
Southwestern College
100 College St.
Winfield, KS 67156

Award Recipients will be announced Friday, April 1, 2011.
Award Recipient Ceremony TBA in April.