General Information
What is the Summer Music Festival?
A six-day summer camp on the beautiful campus of Southwestern College, studying with our outstanding faculty and developing your musical skills. Choose one of four tracks – choir, orchestra, piano, or band.
In addition to fresh emphasis on individual track instruction, we are excited to offer some new activities this summer including private lessons, faculty recitals, African drum and dance ensemble, and more.
Activities like ultimate frisbee, movie night, capture the flag, and ukulele night add to the fun!
---
When is the Summer Music Festival?
June 8-13, 2015
---
Who should attend?
High school and college (freshman/sophomore) musicians at intermediate to advanced skill levels.
Rising college juniors or seniors should may apply for our Counselor Program.
---
Where you will stay?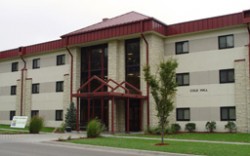 All participants have the opportunity to be housed in Cole Hall. This newest residence hall on campus features a private bath for each double-occupancy room. Festival counselors will live in each wing of the hall and will participate in activities alongside students.
---
What will it cost?
Through generous support from musician and trustee emeritus Dr. George Cole, the all-inclusive cost for the week-long festival is $375* when the application to attend the festival includes a signature of recommendation from a private music instructor or school music teacher.
Commuter Option: If you choose not to stay overnight on campus, the full cost of the festival is $300 which includes meals, instruction, etc.
Scholarships: *Through the generosity of donors and various fundraising activities, a limited number of additional scholarships may be available.
---
What facilities will you use?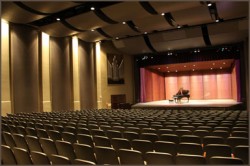 All classes and rehearsals will be on the Southwestern College campus, a safe and accessible college located on a hill on the east edge of Winfield, Kansas. Many performances will be in the new state-of-the-art Richardson Performing Arts Center, dedicated in October 2011.
---
How do I apply?
There are two ways you can apply to Summer Music Festival: