2013 Summer Music Festival
Jazz Track
Daily Festival Activities Include:
Big Band Rehearsal
Music Theory and Improvisation Coaching
Combo Rehearsal
Masterclass and Sectionals
Seminar
Practice Time
Evening Activities – Performances and Entertainment
---
2013 Faculty

Jeff Gordon, jazz band. Jeff is an adjunct faculty member at Friends University, where he teaches applied jazz improvisation, jazz combo classes, is the big band trumpet section coach, and is a member of the Friends Faculty Jazz Sextet. Jeff holds a Masters degree in trumpet performance and a Bachelors degree in Jazz Studies from Wichita State University. Equally at home in jazz, commercial or classical settings, Jeff has been playing trumpet professionally for nearly 30 years and is a much-in-demand player. Locally, he has performed with the national Broadway tour of Wicked, The Temptations, The Four Freshman, Wayne Newton, Las Vegas acts The Scintas and Bob Anderson, and with the Wichita Symphony Orchestra. He regularly plays lead trumpet in the pit orchestra for Music Theatre Wichita, Crown Uptown Theatre, and other area music theater productions. Jeff also maintains an active private teaching studio in the Wichita area.
---
2012 Guest Faculty
2013 Guest Faculty TBA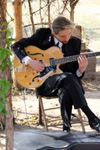 Justin Blackburn has led an active career as a composer, guitarist, and multimedia artist for over ten years. He only recently settled in Chicago, after completing studies at the University of Kansas in music composition with James Barnes and Charles Hoag, electronic music and audio engineering with Bryan Kip Haaheim, and guitar with Rod Fleeman. His music has been performed both here and abroad, most notably in the 2009 Society of Electro-Acoustic Music in the United States (SEAMUS) conference in Indiana and the 2008 SoundSCAPE New Music Festival in Pavia, Italy. He was recently commissioned by Hutchinson Community College for a new work for concert wind ensemble, to be premiered in 2011. Other achievements include being a finalist in the 2007 BMI Morton Gould Composition Competition, a 2006 commission for solo piano from Gabriela Frank, and a collaborative art/sound installation with sculptor Matt Burke at the Lawrence Arts Center in 2008. He has written music for film, jazz big band, symphony orchestra, electronics, chamber ensembles, and much more.
---

Ryan Royle, a graduate of Friends University in Wichita KS, is the Adjunct Professor of Trumpet at Southwestern College as well as the Director of Instrumental Music at Trinity Academy in Wichita. He also regularly performs with the Wichita Professional Wind Ensemble. Ryan holds a Bachelor of Arts in Music, with emphasis on Trumpet Performance, and a Minor in Religion and Philosophy. His varied background as a musician has allowed him the opportunity to work in a variety of settings from Jazz and Classical to Sacred, Rock, and Contemporary. Most notably he has performed in back-up bands on Trumpet for The Temptations, Denny Jiosa, and Shirley Jones. He also has received outstanding soloist awards at both the UNT and WSU Jazz Festivals, as well as the 2008 winner of the Friends University Miller Concerto Competition. When he is not teaching or involved with anything musical, Ryan enjoys spending time with his wife Gigi and their two dogs, Hope and Sadie. He is very excited to be participating in this festival as well as all of the other opportunities at Southwestern College!
---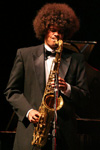 Jason Whitmore attended Friends University for Music Performance where he studied clarinet, alto and tenor saxophone. Being trained as both a classical and jazz musician, Jason has had the pleasure of performing with many different ensembles. Classically, he has performed with the Hutchinson Symphony, Hutchinson Municipal Band, and Wichita Wind Ensemble. Audiences have heard him play in pit orchestras, local bands and has backed up such performers as Shirley Jones, Wayne Newton and The Temptations. He has performed with featured groups in Italy and France at the Jazz á Juan, Orléans, and Umbria Jazz Festivals. Jason can also be heard on recording projects by Craig Owens and the Bodo Ensemble, Nate Williams, Carrie Nation and the Speakeasy, Soulstice, and The Project H. Jason has received multiple Outstanding Soloist awards and won the combo division of the North Texas Jazz Festival in 2009.
---

Troy Fischer is in his fourth year as Director of Bands at Wichita Collegiate School, where he leads 3 middle school bands, a middle school jazz band, a high school band, and a high school jazz band. When not in the classroom, Troy performs actively in and around the Wichita area on string bass and electric bass. He received his Bachelors Degree in Instrumental Music Education from Wichita State University in 2008, and is currently pursuing his Masters degree in the same field. As a graduate student, Troy directed the Jazz Arts II Ensemble at Wichita State University in 2009, working closely with long time Jazz Professor, Tom Fowler.
---
Jazz Track Schedule 2013
Monday, June 3, 2013 Schedule
11:00 am – 2:00 pm
Festival Move-in
Lunch – On Your Own
2:30 pm – 4:30 pm
Scott Lang – Music Leadership
4:30 pm – 6:00 pm
Scott Lang – Advanced Music Leadership
6:30 pm – 7:00 pm
Dinner
7:00 pm – 9:30 pm
Graduate Students meet with SC Faculty, Placement Hearings for chamber ensembles, Assistant Faculty Meetings, Practice and First Rehearsals
Tuesday, June 4 - Friday, June 7
8:30 am – 9:00 am
Breakfast – Dining Hall
9:00 am – 9:50 am
Big Band
10:00 am – 10:50 am
Theory/Improv
11:00 am – 11:50 am
Combo
12:30 pm – 1:15 pm
Lunch
1:15 pm – 2:00 pm
Combo
2:00 pm – 2:55 pm
Masterclass/Sectional
3:05 pm – 3:50 pm
Seminar
4:00 pm – 4:15 pm
Break and Snacks – Java Jinx
4:30 pm – 5:45 pm
Big Band
5:45 pm – 6:30 pm
Dinner
6:30 pm – 8:00 pm
Practice Time / Free Time
8:00 pm – 9:30 pm
Evening Activities


Tuesday – Jazz Faculty and Student Loans
Wednesday – Festival Participant Talent Show
Thursday – Worship Concert
Friday – Faculty Showcase
Saturday, June 8
7:30 am – 8:00 am
Breakfast
8:00 am – 10:00 am
Final Rehearsals
11:00 am
Family Day Begins
Detailed schedule coming soon!