2013 Summer Music Festival
Orchestra Track
Daily Festival Activities Include:
Festival Orchestra Rehearsal
Sectionals led by String Faculty
Faculty / Student Chamber Groups Rehearsal
Private Lessons and Chamber Coaching
Evening Activities – Performances and Entertainment
---
Faculty

Dr. Daniel Stevens, orchestra. In addition to his responsibilities as director of strings at Southwestern, Dr. Stevens is founder of the Southwestern College Youth Symphony and conductor of the South Kansas Symphony at Southwestern. Stevens is a professional violist with the Tulsa Symphony Orchestra/Opera and has been a featured soloist and chamber musician. In March 2010, Stevens was a member of a string trio that played a concert in Carnegie Hall.
---
2012 Guest Faculty
2013 Guest Faculty TBA

Ashley Allison, cello. A Tulsa native, Ashley graduated from the Cleveland Institute of Music, studying with Richard Weiss, assistant principal cellist with the Cleveland Orchestra. She currently is serving as a graduate teaching assistant at Oklahoma State University. She has been a member of the Tulsa Symphony Orchestra since 2007, and the Bartlesville and Enid symphonies since 2010. While in Cleveland, she completed three seasons as principal cellist for the Cleveland Women's Orchestra. She has received fellowships to attend the Kneisel Hall Chamber Music Festival, the National Symphony Orchestra's Summer Music Institute at the Kennedy Center, the Aspen Music Festival, and SpoletoUSA. Ashley has served on the faculty of Brook Fine Arts Academy and TSO's Summer Fiddle Camp.
---

Dominique Corbeil, violin. Born in Montreal, violinist, Dominique Corbeil has performed with orchestras in the U.S., Europe and Canada. She received her musical training at the University of Montreal, studying with noted violin soloist, Vladimir Landsman, and at Montclair State University with Oscar Ravina of the New York Philharmonic. Upon graduation in 1991, Ms. Corbeil won violin positions with both the Portland (Maine) and Vermont Symphony Orchestras. In 1993, she joined the Orquesta Sinfonica de Castilla y Leon in Valladolid, Spain, and in 1996, she became a member of the Thunder Bay Symphony Orchestra (Canada). Currently Ms. Corbeil serves as assistant principal second violin with the Wichita Symphony Orchestra. She is also a member of the Tulsa Symphony Orchestra, Tulsa Ballet Orchestra and Wichita Grand Opera. For the past 15 summers Dominique has been a member of the Colorado Music Festival. Ms. Corbeil is also a distinguished educator. For the past 20 years she has had and continues a successful private music studio. Ms. Corbeil has also been on the music faculty of Tulsa Community College, a member of the Tulsa Philharmonic and the Tulsa Opera Orchestra. Dominique lives in Wichita Kansas with her husband, timpanist and percussionist Jerry Scholl and 9 year old son Olivier.
---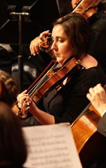 Ronnamarie Jensen, violin. Ronnamarie Jensen began playing the violin at the age of 5. She earned her Bachelors degree in Music Performance from the University of Arkansas in 1998 and completed her Masters Degree from the University of Arkansas in 2005. She has performed with The Arkansas Symphony and served as Principal Second Violin in the North Arkansas Symphony and Fort Smith Symphony and was Concertmaster of the Opera in the Ozarks Orchestra in 2004 and 2005. She moved to Chicago in 2005, where she performed as a free-lance musician in many of the regional orchestras, and held the position of Associate Principal Second Violin of the South Bend Symphony Orchestra. Ronnamarie spent the summer of 2008 playing first violin in the Azalea String Quartet for the Holland America Cruise Line, after which she moved to Orlando, Florida, and freelanced with various orchestras, including Brevard Symphony, Orlando Philharmonic, Space Coast Symphony, and Disney Candlelight Orchestra. She moved to Tulsa in the fall of 2010 to perform with the Tulsa Symphony as Associate Principal Second Violin and teach for the Education Outreach Program. She is a member of the Tulsa Opera Orchestra, and as served as its Acting Associate Concertmaster. Ronnamarie is currently serving in a one-year position as Associate Concertmaster of the Tulsa Symphony and Concertmaster of the Tulsa Ballet Orchestra.
Ronnamarie is equally at home in non-classical settings. She played in her first band at age 17. During her time in Fayetteville, she played with such bands as The Barrio Band, Buck Star and the Dirt Rock Rebels, The Morning After, and Honey Died, among others. She has done extensive studio work for various bands and recording artists. Expanding her violin skills to include viola, Ronnamarie now is performing with Tulsa Rock Quartet.
---

Marcia Hatfield, bass. Mrs. Hatfield grew up in the Wichita Public Schools. While attending Wichita State University, she studied Double Bass with Paul Ousley and Mark Foley. She also attended Eastern Music Festival and the prestigious Aspen Music Festival, studying with Diana Gannett and Bruce Bransby. After graduating with honors from Wichita State University with degrees in both Music Performance and Music Education, she furthered her education by completing certification in Kodaly from the Wichita State University Graduate School. She is currently the Director of Orchestras at Brooks Technology and Arts Magnet Middle School, and is the Assistant Orchestra Director at Southeast High School. Mrs. Hatfield has performed in Austria and Germany, and performs regularly with the Wichita Symphony Orchestra.
---
Orchestra Track Schedule 2013
Monday, June 3, 2013 Schedule
11:00 am – 2:00 pm
Festival Move-in
Lunch – On Your Own
2:30 pm – 4:30 pm
Music Leadership
4:30 pm – 6:00 pm
Advanced Music Leadership
6:30 pm – 7:00 pm
Dinner
7:00 pm – 9:00 pm
Practice and First Rehearsal
Tuesday, June 4 - Friday, June 7
7:30 am – 8:30 am
Practice Time/Free Time
8:30 am – 9:00 am
Breakfast – Dining Hall
9:00 am – 10:15 am
Festival Orchestra Rehearsal
10:20 am – 11:00 am
Sectionals led by String Faculty
11:10 am – 12:30 pm
Faculty / Student Chamber Groups Rehearse
12:30 pm – 1:15 pm
Lunch
1:30 pm – 4:00 pm
Private Lessons and Chamber Coaching (30 min. blocks) / Practice Time
(String Students receive two lessons)
4:00 pm – 4:15 pm
Break and Snacks – Java Jinx
4:30 pm – 5:30 pm
Festival Orchestra Rehearsal
5:45 pm – 6:30 pm
Dinner
6:30 pm – 8:00 pm
Faculty and Student Chamber Practice Time / Practice Time / Free Time
8:00 pm – 9:30 pm
Evening Activities


Tues/Wed/Thur – Additional Chamber Coaching (30 min. blocks)
Tuesday – Jazz Faculty and Student Loans
Wednesday – Festival Participant Talent Show
Thursday – Worship Concert
Friday – Faculty Chamber Music Concert
Saturday, June 8
7:30 am – 8:00 am
Breakfast
8:00 am – 10:00 am
Final Rehearsals
11:00 am
Family Day Begins
Detailed schedule coming soon!