Family Weekend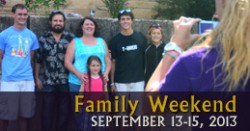 2013 FAMILY WEEKEND
September 13-15, 2013

Greetings Moundbuilder parents and family members! We hope that you plan to visit the SC campus this fall for Family Weekend on September 13th through 15th. During Family Weekend Southwestern College hosts the families of its students. We hope this weekend will give participating families an opportunity to experience the many activities, events, and talents of Southwestern College students, faculty and staff!

When you arrive on campus, be sure to stop at the Hospitality Table located at The Welcome Center for refreshments, an events schedule and a list of local business.

Southwestern is exceptionally beautiful during the fall months. We look forward to having you here for Family Weekend!

For more information or questions regarding Family Weekend please contact Lai-L C. Clemons at Lai-L.Clemons@sckans.edu or 620-229-6168

An updated website with events will be posted later this summer or early in the Fall 2013 semester.