Academic Info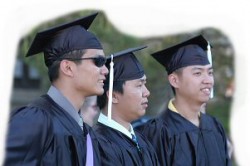 Accreditation
Southwestern College is accredited by The Higher Learning Commission.
It is further accredited by the University Senate of the United Methodist Church, the National Association of Schools of Music (music), and the Kansas State Department of Education and The Council for the Accreditation of Educator Preparation (teacher education program). Southwestern students find credits taken here fully accepted in undergraduate and graduate schools across the nation.
Southwestern College's main campus has 45 undergraduate majors in the areas of Business, Education, Computer Science, Natural Science, Nursing, Performing Arts, Humanities and Social Science.
---
Requirements for Graduation
Degree Requirements
These are the requirements for a degree:
Complete the specific course requirements for a major field of study together with required cognate courses, with a minimum grade point average of 2.00 (C) in those courses required by each major, minor, or secondary certification to be granted.
Complete the integrative studies requirements.
Complete a minimum of 124 credit hours.
Have an overall grade point average of 2.0 (C average).
Have Southwestern College course credit of at least 30 credit hours.
Have taken 15 of the last 30 course credit hours at Southwestern (waived for professional studies learners who are active
duty military personnel under an SOC agreement).
Be elected to the respective degree by the faculty and by the Board of Trustees.
Degree Requirements for Transfer Students
Complete all items listed above.
Regardless of grade points earned at other institutions, have at least a C average for all work taken at Southwestern
College.
For students transferring from two-year colleges, complete a minimum of 60 hours at a baccalaureate-degree granting institution.
Accept the judgment of school administrators in substituting transfer credits for courses in the Southwestern
catalog.
To obtain more information, please click here to go to the Academic site and see the list of majors and minors offered here at Southwestern College.