News
April 12, 2010
Bruce Schwyhart, CornerBank President/CEO, will receive Southwestern College's 2010 Business Builder Award. The presentation will be during the Business Hall of Fame ceremony at 2 p.m., Saturday, April 17, in the Deets Library on the Southwestern College campus.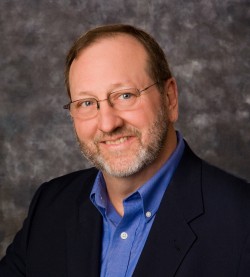 The Business Builder Award recognizes business leaders in South Central Kansas who have created jobs, supported community institutions, and through their hard work and civic contributions, have made a lasting impression on the local quality of life. Schwyhart, an influential Winfield and Cowley County business leader and supporter of Southwestern College, has been instrumental in developing a countywide approach to economic development and has served in numerous leadership capacities.

His community service includes leadership on a wide variety of local and state boards, including the Kansas Bankers Association; Kansas Co-op Council; Kansas Area United Methodist Foundation; University of Kansas Lied Center; Cowley First Advisory Council; Twin Rivers Development; William Newton Healthcare Foundation; Winfield Area Chamber of Commerce; Winfield Area Habitat for Humanity; Marquee Performing Arts Center; and Grace United Methodist Church. Additionally, Schwyhart has taught in the Southwestern College MBA program.

"The foundation of the community starts and ends with volunteerism. I grew up on a farm between Winfield and Oxford and I found out that things don't happen unless you get involved," Schwyhart said. "It is extremely rewarding to see a project come to fruition. When we have success, it definitely is worthwhile, but it does take a while and requires diligence to fulfill our goals."

CornerBank recognizes individuals every month with a Community Cornerstone Award for volunteer service. To be on the receiving end of a similar recognition is a bit odd for Schwyhart.

"I told Dick (Merriman, Southwestern College President) that usually I'm the one presenting the award, not the one receiving the award," Schwyhart said. "I have always held Southwestern College in high esteem, a cornerstone in our community, so it is humbling to receive the Business Builder Award,"

Schwyhart has no desire to slow down. He continues to look toward the future for Winfield.

"Looking ahead, I still see a lot of things coming," Schwyhart said, "in particular, Jantz Stadium and Richardson Auditorium at Southwestern College being brought up to date, which gives me a sense of hope and appreciation that we take care of these resources.

"William Newton Hospital also has been involved in maintenance and improvement projects, which are extremely important. I'm very excited about the future plans and ideas for the downtown area, as well," he added. "I am just a member of many great teams of people interested in keeping the community strong. These things are being put into the action. You're never done."

Schwyhart graduated from Emporia State University. He completed graduate work at Wichita State University and earned his Certified Financial Planning certification through the College for Financial Planning in Denver.

For more information about the Business Hall of Fame at Southwestern College or the Business Builder Award, contact Susan Lowe, director of alumni programs at Southwestern, at (620) 229-6334.