Activities
---
The Collegian
The Collegian student newspaper focuses on features, opinions and photo essays. A staff of student reporters, photojournalists, editors and designers creates this monthly publication.
MEMBER
Associated Collegiate Press
Kansas Collegiate Media
---
UPdateSC
The online news source updatesc.org publishes timely news and sports stories, photo slideshows and videos covering events on the Southwestern College campus. A staff of reporters, photojournalists, videographers, editors and designers updates this lively site on a daily basis during the academic year.
---
The Moundbuilder
A tradition on campus is the Moundbuilder yearbook which is created during the academic year and distributed every August. Students combine their writing, editing, design and photography skills to document the year. Staff members with majors as diverse as biology, digital arts, English, history, and psychology combine their creative skills to produce this book each year
Stacy Sparks is the faculty adviser for the Moundbuilder.
---
KSWC Radio
Jinx Radio is a radio station broadcasting a CHR format, licensed to Winfield, Kansas, USA, and the station is owned by Southwestern College.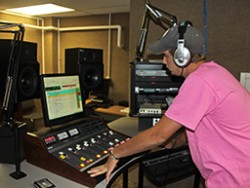 The station serves the campus of Southwestern College in Winfield, Kansas, plus the city of Winfield. KSWC also is the flagship station for Southwestern athletics with the Moundbuilder Sports Network with the voice of the Moundbuilders, Curt Caden.
You can find Jinx Radio on your radio in the city of Winfield at 100.3 FM, online at jinxradio.com and on your mobile device with the TuneIn Radio app.
As of summer of 2013, KSWC has undergone significant renovations, including a new, remodeled studio space and new programming software.
---
SCTV
At Southwestern, student-written and produced television programs are cablecast to the Winfield area and webcast to a broader audience.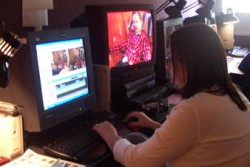 (Photo: Anna Brussart at an Avid editing station)

The curriculum features studies in television news plus commercial video and storytelling.