Communication
Activities
---
The Southwestern College Collegian, the official student newspaper of Southwestern College of Winfield, Kansas, is published on every two weeks and distributed on Wednesdays. The Collegian contributes content to the convergent media website SCUpdate.org.
MEMBER
Associated Collegiate Press
Kansas Associated Collegiate Press
STAFF:
Editor-in-Chief: Clinton Dick
Staff writers: Alissa Sheppard, Alyssa Richardson, Amber Hart, Angel Vadillo,Austen Holloway, Bria Boykins, Caitlin Dyck, Cristelle Tejes, Dalton Carver, Erica Dunigan, Erik Johnson, Jonathan Woon Tien H'Siang, Josh Hall, Kaitlynn Munoz, Katie Vorderstrasse, Morgan Givney, Will Rosson.
Adviser: Stacy Sparks
---
The Moundbuilder
A tradition on campus is the Moundbuilder yearbook which is created during the academic year and distributed every August. Students combine their writing, editing, design and photography skills to cover the year. Staff members come to the staff with majors as diverse as biology, digital arts, English, history, and psychology. Stacy Sparks is the faculty adviser for the Moundbuilder.
---
KSWC Radio
Southwestern College's radio station is KSWC-FM 100.3 in Winfield, Kansas.
The station is on the air 24 hours a day while classes are in session. Our signal is also webcast (KSWC) and podcast.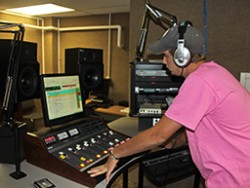 KSWC operates out of a newly digitized studio in the lower level of the Christy Administration building. KSWC is managed and run entirely by students.
KSWC's goal is to offer majors and non-majors an opportunity to gain practical experience in the fields of radio production and broadcasting.
---
SCTV
At Southwestern, student-written and produced television programs are cablecast to the Winfield area and webcast to a broader audience.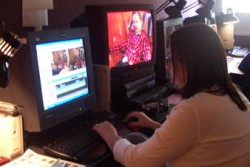 (Photo: Anna Brussart at an Avid editing station)

The curriculum features studies in television news plus commercial video and storytelling.