Leadership
Fundraisers
On this page you will find information and sign-up forms for key leadership events and fundraisers. All funds acquired through Leadership fundraisers help cut student costs for the service learning trip and pay for other team activities. Interested in sponsoring a leadership fundraiser to receive advertising and tax deductions? Please contact leaders@sckans.edu or call (620) 229-6393.
Leadership Fall Goodies Fundraiser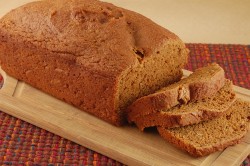 Each November before Thanksgiving, the Leadership team makes delicious fall breads that are frozen and then hand delivered to your door! Just pop them in the oven to warm, and you have an easy holiday treat! Pricing is below. Reserve your holiday goodies today!
SOLD OUT!
Due to the incredible demand, we have taken all of the orders we are able to fulfill this year. Thanks for the support!
$8.00 for apple cinnamon bread
$8.00 for pumpkin bread
$8.00 for regular banana bread
$9.00 for banana bread WITH nuts
---
Roses in the Rafters
What better way to spend Valentine's Day than in a historic stone barn filled with roses, laughter, and live music? The Roses in the Rafters event takes place at the Barns@TimberCreek every four years to help pay for our interntional service trip. A delicious four-course meal is catered by a local business and a local Jazz Combo plays music throughout the evening for dancing. Check out photos from a past event in the Roses in the Rafters photo gallery! Look for us in February of 2013 to make your reservation!
---
2014 Leadership Road Race
DATE: April 12, 2014
LOCATION: Southwestern College, Winfield, KS
DISTANCES: 1 Mile Family Pet/Jog or Certified 5K course
SCHEDULE:
5K: 7:30 p.m.
1 Mile: 8:15 p.m.
REGISTRATION:
To register for the Leadership Road Race, please fill out the online registration below:
5K ENTRY FEES:
Postmarked on or before March 22: $20.00
Postmarked later or Race Day: $25.00
1 MILE ENTRY FEES:
Postmarked on or before March 22: $12.00
Postmarked later or Race Day: $15.00
GROUP DISCOUNT:
Teams of 5 people or more who register together will be discounted $3/person. Must register on or before March 22 to receive discounted rate.
RACE PACKETS:
Packets will be available the day of the race. If needed before race day, please contact us.
GET READY TO GLOW:
Make sure to come ready to "Light Up the Night!" and support SC Leadership! Pets are welcome and it is sure to be fun for the whole family. T-shirts will be given to all runners!
Check out photos from the 2010 Road Race.