Leadership
Service Learning Travel
Leadership Southwestern recognizes the value of travel, particularly travel that includes service. Each year the team sets off in a new direction for its annual service learning trip. The trip is designed to give students opportunities to serve outside of the Winfield community. Students expand their worldviews by learning from others and discerning what it means to be a leader in today's global society. Students fundraise throughout the year to pay for their trip, and students also plan and run the entire trip! The location of the trip rotates every year amongst the following destinations: International, Kansas, Urban, and Outdoors.
This year we are headed on a whirlwind adventure to Seattle, Washington!
Currently, we are looking into a number of service opportunities in the Seattle area. One of the most promising is an opportunity to tour and volunteer with a community garden that provides food for thousands of Seattle residents. Since the view of the college for this academic year is Hunger, the Leadership team would love to serve in an area that contributes to putting food on people's tables. We are also excited to experience all that Seattle has to offer including: Olympic Park, the Space Needle, and the amazing food! Check back with us later for more updates on our plans for service-learning travel! In the meantime, check out some of our recent adventures in our Service Learning Trips photo gallery.
Fall 2011 Exploration in Hutchinson, KS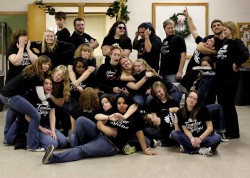 Leadership Southwestern road tripped down to Hutchinson, KS this past December 2011.
A total of 17 ships performed a service of wrapping presents at New Beginnings, a transition home for those who were displaced from their homes, and painting the Boys and Girls Club's gym, classrooms and restrooms. When all the work was done, ships took a ride 650 feet below the Kansas prairie to the Hutchinson Underground Salt Museum. The trip was then completed at the famous Carriage Crossing restaurant for slices of homemade pie!
May 2011 International European Adventure
Spring 2010 State Park Clean-Up in San Diego, CA