News
August 13, 2014
Molly (Komlofske) Just has been selected as the director of discipleship at Southwestern College.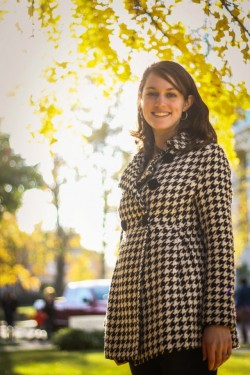 Her duties include providing leadership for the Discipleship Southwestern service-learning team which requires close work with students, faculty, and staff relative to faith formation of emerging adults.
The Discipleship Southwestern team is a group of 40 undergraduate students who have made a commitment to study and practice their Christian faith. According to Cheryl Rude, director of Leadership Southwestern, Just's work will connect the campus to the community by maintaining long-held relationships and building new connections with area youth ministers, camp directors, campus ministers, as well as the Great Plains Conference of the United Methodist Church.
"I am excited to have Molly join our Southwestern College community," Rude says. "Just is a returning alumna of the Discipleship program, so I look forward to seeing how she mixes the traditions of her own experience with her new knowledge and perspectives from seminary to help shape the future direction of the program."
Just is a 2012 graduate of Southwestern College where she earned a bachelor of arts degree in philosophy and religious studies. She has also earned minors in youth ministry and Christian discipleship. She is currently studying for her master of divinity degree from Asbury Theological Seminary. Just is also a certified candidate for ordination in the Great Plains Conference of the United Methodist Church.
Just is originally from Holcomb and now lives in Winfield with her husband, Kyle.