News
August 05, 2008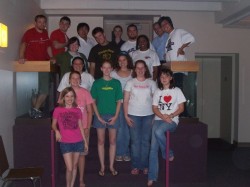 This fall a group of 13 students in their third year of Discipleship Southwestern has an opportunity to put into practice some of what they've learned throughout their time as members of the service-learning program, Discipleship Southwestern.
Students have spent the first two years learning what their gifts are and what they are passionate about, as well as taking individual steps to grow in their faith.
Late last spring it was their turn to step up into the leadership of the team of about 55 students, serving in roles such as Chair of the Missions committee, Mentoring Liaison, and Team Administration.
"I'm the Director of the program, but the students really run it," said Rev. Ashlee Alley who has served in her role since 2005.  "It's exciting to see them come in as freshmen, learn more about themselves, about God, and how to live in Christian community.  By the time that they are in the third year of the program, they are in a position where they get to serve the others in a formal capacity.  Some of the ways they serve are in up-front ways, such as planning the monthly service projects or annual mission trip while others are more behind the scenes, like maintaining the website or sending out a weekly newsletter."
The students this year are from all over Kansas, Oklahoma, Texas, Singapore and Indonesia.
The purpose of Discipleship Southwestern is to make informed, transformed, equipped and healthy disciples of Jesus at home, at work, at church, and in the world.