Hispanic Ministry
We are thrilled to have begun meeting and have decided to name this ministry, Ministerio J.O.S.U.E., Juntos Obrando como Siervos Utiles al Evangelio (Ministry Joshua, Together Working as Useful Servants for the Gospel.) Our guiding verse is Joshua 1:9, "Have I not commanded you? Be strong and courageous. Do not be terrified; do not be discouraged, for the LORD your God will be with you wherever you go." (NIV) As we are all in a new place, some a new town, some a new state and some a new country, we all need to be reminded that God will be with us wherever we go. As we celebrate this place in our lives, we do it joyfully knowing that we are exactly where we are supposed to be. Through Ministerio J.O.S.U.E., we can worship God together in Spanish, for many our first language, and for others a language very dear to us.
Our meetings will be nearly every other week, on Sundays at 5:30 pm, however it will vary as we work around the schedules of the students at SC.
Ministerio J.O.S.U.E. is coordinated by Jason and Mandie Speegle. They served as missionaries in the Dominican Republic for 7 years. They will be working with the students and people in the community of Winfield to build a Spanish speaking community of believers who want to fellowship, worship and grow together in Spanish.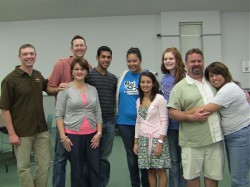 A photo of the group at the first meeting of Ministerio J.O.S.U.E.
Jason and Mandie can be contacted at Jason.speegle@sckans.edu.