Pray 40
This year we invite you to pray with us!
One of the most important ways that you can help support our campus is through joining in prayer with us. Whether you are in Winfield, or in another place, we invite you to be included in our spiritual community through prayer!
Pray for:
Athletic teams: Pray for team safety, unity and travel mercies. To keep up with our athletic teams go here: http://www.buildersports.com/
School Leadership: Pray for President Merriman and our College Board, that they would be led in the right direction while making decisions for our college.
Students: That they would be encouraged to develop their personal gifts and abilities, and that they would be led in the right direction while at school. Also pray for students' health and safety.
Faculty: Pray a prayer of thanksgiving for the faculty at Southwestern, and protection over their families and jobs.
Alumni: Pray that God would be moving through our alumni who are now involved in many different types of ministires, services and businesses all across the globe.
Chapel: Pray that God would move in and through our chapel speakers, worship teams, and students. Pray for genuine community among our students. To keep up with our chapel happenings, click here: http://www.sckans.edu/activities/chapel
Campus Ministries: Pray that our campus ministries would thrive and be successful in leading students into a deeper relationship with God and one another.
Worship Outreach: Pray for our outreach teams, Keynotes, Selah, and World Witness Team -- pray that God would continue to open doors for them to minister, and pray for travel mercies. To keep up with what they are doing, go here: http://www.sckans.edu/activities/worship-outreach/
Pray for the many activities at our school -- pray that these activities would be beneficial towards the students who are involved in them. Pray for leadership development and ask God to make avenues for these students to learn more about themselves and about their gifts that they can use to further God's Kingdom. For a complete list of SC student activities, go here: http://www.sckans.edu/activities/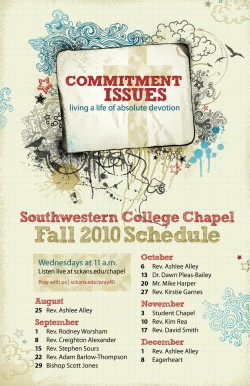 The Initiative: http://www.pray40.com
This fall, we invite you to join us as we pray for the next generation of Christian leaders as they head to college and university campuses. Starting August 23, 2010 and going until October 1, 2010 we are calling the Church to prayer for our college campuses for 40 days. We have a two-fold purpose: to call the Church to pray for college students and to help college students learn to pray. The 40 days is not a conclusive time period when we simply say our prayers and wish our students the best, but it is a specific period of time in which we can expressly pray for a group of people who so desperately need our prayers. The "40" also comes from Isaiah 40 to "prepare the way of the Lord". This is a chapter of Scripture where we see God calling his people to hope from despair, to understanding from futility, and to strength from weariness. This is our prayer for the generation of college students who populate campuses around the world…that they would come to trust in the One, true God and be strengthened to run the race that is before them.
How to Participate
We have several ways in which people can join in our prayer efforts:
Daily Emails—Receive an email morning, noon, and evening with the prayer for the day.
Downloadable Prayer Guide—Download and share a book of prayer with the daily prayers that can be shared with your family, your church, your Sunday School class/small group, your prayer group, or prayed alone.
Twitter prayers—Follow us @CollegeUnion and we'll send you a link to the prayers online.
Text Messages –Receive part of the prayer as a text message and be reminded to pray for college campuses and get a link to the prayers online. Sign up by texting "pray40" to 41411, standard text messaging rates apply
Join us in intentional, focused prayer for the next 40 days! All of the information for the 40 Days of Prayer can be found at the website above.
Also, please check out Southwestern's Campus Ministry and get involved! Chapel and Worship Outreach schedules are listed below:
Chapel Schedule: See Below