SC Christmas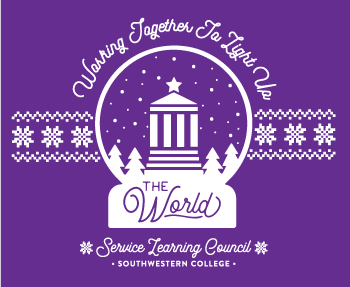 Every year Student Foundation brings the college community together to celebrate the spirit of Christmas and the end of the fall semester.
Christmas at SC 2020
'Tis the season for…
Serving
Sunday, November 15: Isle of Lights Service Project | Island Park | All Day
Encouraging
Monday, November 16: Stories that Bring "Good Cheer" | Various Locations | All-Day
Story by Steve Kramer in tent outside library at 9:30 a.m.
Story by Chery Rude in Mossman 105 (service learning office) at 11 a.m.
Stories by Sarah Hallinan and Kaleigh Richardson in Sutton lobby at 1:30 p.m.
Story by Allyson Moon in the Little Theater at 4 p.m.
Storytelling
Tuesday, November 17: Holiday Letters for Big Brother Big Sister | Java Jinx | 11:30 a.m.
Loving
Wednesday, November 18: Grab a Hot Chocolate for you and a Friend! | Java Jinx (Discipleship) | 11 a.m.
Surprises
Thursday, November 19: Holiday Scavenger Hunt | Various Locations (Leadership) | All day
Find 1 of 10 hidden purple rocks or bricks around campus and take them into Anjaih's office to claim your prize! (bricks are not in the mound or in parking lots)
Thursday, November 19: Thankful Thursday (hosted by Student Success) | Deets Library | 1 - 4 p.m.
Laughter
Friday, November 20: 9 Lives Holiday Show | Messenger Recital Hall | 9 p.m.
Celebrating
Saturday, November 21: Isle of Lights Tour | Island Park | 7 p.m.
Isle of Lights is thanking SC for our service work by exclusively opening for a special Isle of Lights tour directly for college students between 7 and 8 p.m. on Saturday.
All events are tentative and subject to change.