News
May 17, 2017
Southwestern College President Brad Andrews has announced that Ross Peterson-Veatch will be the next vice president for academic affairs and dean of the college. Dr. Peterson-Veatch will begin his duties July 1.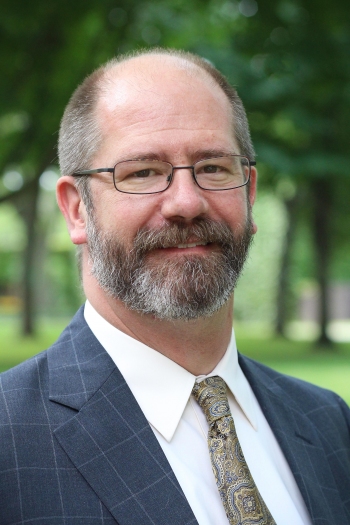 The new vice president will have responsibility for the academic vision and execution of academic programs at the college, including both the main campus and Professional Studies. During the past year's national search to fill the position these duties have been performed by Tracy Frederick, interim provost, after former provost Andy Sheppard accepted a college presidency in Georgia.
"I am so pleased to be chosen as Southwestern's new vice president for academic affairs," Peterson-Veatch says. "I am excited to join the Moundbuilder community and I look forward to working with faculty and administrators to continue Southwestern's strong traditions of student engagement and academic excellence."
Peterson-Veatch has served as interim vice president for academic affairs and academic dean at Goshen College (Ind.) since 2015. In that role he was responsible for providing leadership and oversight for all academic and student life programs and departments. He served Goshen previously as associate vice president for academic affairs, primarily focused on adult and graduate programs. Before that, as associate academic dean, his duties included service on the college team developing strategic academic priorities.
Prior to his tenure at Goshen, Peterson-Veatch was a faculty member at Indiana University in the liberal arts and management program, and has also held faculty appointments at Earlham College, Goucher College, and Indiana University-Purdue University Indianapolis. From 2001 to 2007 he served Indiana University's Kelley School of Business as an instructional consultant focused on improvement of classroom teaching practice.
"Southwestern is a college with a clear focus on students and their success and a commitment to developing students as leaders. I am honored and humbled to be able to be a part of those efforts and to help extend them to a growing student body both in Winfield and beyond," Peterson-Veatch adds.
Peterson-Veatch received his bachelor's degree from Earlham College in Spanish and sociology/anthropology and holds master's and doctorate degrees in folklore from Indiana University. He has published numerous articles and book chapters on professional learning communities and other topics.
His academic interests include leadership studies, folklore, history of ethnography and Colonial Latin American literature.
"I look forward to partnering with him and am excited about the leadership and service he will provide Southwestern in the years to come," Andrews says.
Peterson-Veatch has been involved in college pedagogy initiatives since 1992 and served on the program committee for the 2009 annual meeting of the International Society for the Scholarship of Teaching and Learning. He is a member of the International Leadership Association, the International Society for the Scholarship of Teaching and Learning, the Professional and Organizational Development Network in Higher Education, the American Conference of Academic Deans, and the American Folklore Society.
Peterson-Veatch and his wife, Erika, plan to move to Winfield this summer along with their sons, Oscar and Arthur.
---
Fall 2017 Opening Convocation
August 25, 2017
0:00 Processional - Dr.James Leland (Psalm Nineteen – Benedetto Marcello)
2:45 Invocation - Emily Jones, 2017-2018 SGA President
3:30 Welcome - Dr. Bradley J Andrews, President
5:58 Recognition of the Scholars of the College and Dean's Honor Roll - Dr.Ross Peterson-Veatch, Vice President for Academic Affairs, Dean of the College
Troy Fort, Scholar of the College
7:25 Special Music - Tyler Demaree, Matthew Porter, and Jack Warring, vocals; Aidan Wells Filbert, piano (On the Willows from Godspell – Stephen Schwartz)
10:35 Introduction of Speaker - Dr. Andrews
12:05 Speaker - Dr. Peterson-Veatch
29:45 Announcements - Mr. Dan Falk, Vice President for Student Affairs, Dean of Students
31:35 Alma Mater - Matthew Porter, Conductor
34:05 Benediction - Rev. Benjamin Hanne, Campus Minister
35:02 Recessional - Dr. Leland (Toccata: Deo Gratias – Richard Keys Biggs)