News
April 13, 2018
Members of the Southwestern College student media staffs won 16 individual journalism awards while attending a state journalism conference this week. The awards for work created and published in student media were announced during the spring conference of Kansas Collegiate Media April 8 and 9 in Wichita.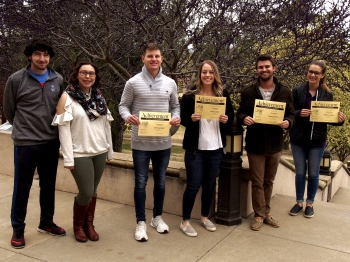 Tessa Castor, Clearwater sophomore, won a first place award in the four-year private college newspaper division sports news writing category for her story about the new women's wresting program at the college. She also took third in newspaper feature writing. In the newspaper page design categories Castor took first and second place for interior pages and third place and an honorable mention in newspaper front page design. Castor earned two honorable mentions in newspaper sports photography.
Tanner Carlson, Belton, Texas senior, took first place in the video category for a story about the Walnut Valley Festival. Carlson also placed first in headline writing and third in feature photography. He earned two honorable mentions – one in editorial writing and one in feature photography.
Chris Campbell, Bloomington, Ind. junior, earned two second place awards, one for newspaper feature writing and one for newspaper feature photography.
Madison Adams, Wellington sophomore, earned a second place award for four-year private college newspaper news and event photography.
Bryson Barrett, Prosper, Texas, junior, and Madison Stumbough, Bonner Springs junior, along with Carlson and Castor attended the conference April 8 and 9 at the Drury Plaza Hotel Broadview in Wichita.
They were among 157 students and advisers from 14 colleges and universities participating in the conference. In addition to earning awards, the students heard two keynote speakers. Denise Neil of the Wichita Eagle spoke about "Finding the Journalism Job You Envision" and Ron Johnson, journalism consultant, presented a talk, "Journalism Still Makes a Difference."
The students also participated in breakout sessions with topics as varied as ethics, photography, podcasting, social justice, using apps, and writing. They were accompanied by Stacy Sparks, associate professor of journalism. Sparks is serving a two-year term as president of Kansas Collegiate Media.