South Kansas Symphony
The South Kansas Symphony and the Southwestern College Youth Symphony are non-profit groups funded by Southwestern College and by the generosity of individual and corporate sponsors. Contributions also come from alumni, friends, and ticket sales.

The South Kansas Symphony strives to provide musical memories for our audience with a variety of music for all ages. Talented musicians drawn from the collegiate and public communities enrich the ensemble. In addition, we hope the new acoustically-crafted Richardson Performing Arts Center and Callison Stage transport your listening experience to another level.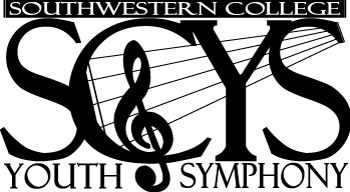 The Southwestern College Youth Symphony provides musical training and performance opportunities to talented students in South-Central Kansas and Northern Oklahoma. The youth symphony strives to maintain a rich heritage of classical music in our region, but has also added the "Lite Orchestra" this season for students interested in Eclectic Styles. The ensemble encourages students to achieve musical excellence, function as members of a team, and appreciate the talents of peers in the ensemble. Many musicians make lasting friendships with other members of the orchestra.
---
2020 Concerto Competition
The South Kansas Symphony 2020 Concerto Competition will take place on February 22, 2020. It is sponsored by the Vasey Family and is open to all instruments and voice.
Senior Division
Senior Division is open to all current Southwestern College students.
1st Prize – Solo performance with the South Kansas Symphony + $300 award
2nd Prize - $150 award
Junior Division
Junior Division is open to 12-18 year old musicians from Kansas and Oklahoma and past attendees of the Summer Music Festival.
Application Deadline: January 24, 2020. Entry fee is $25.00. The competition will be held at Southwestern College. The 2020 Concerto Competition Application form needs to be filled out and turned in by this deadline.
---


Become a fan of our
Facebook page
to stay connected!
---
JOIN OUR MAILING LIST
If you are a first-time concert goer to either the South Kansas Symphony or SC Youth Symphony, we'd love to hear from you. Simply sign up on the mailing list below and we will mail you information for either symphony. Just mark your preference in the form below.
Recent News