News
September 17, 2015
The South Kansas Symphony (SKS) will open their 2015-16 season with a tribute to Jean Sibelius on Sunday, Sept. 27, at 3 p.m., in the Richardson Performing Arts Center in the Christy Administration building on the campus of Southwestern College. The performance is sponsored by George and Marilyn McNeish.

Sibelius, who was born 150 years ago, was a Finnish composer who has been recognized as one of the greatest composers of the 20th century, although his style harkens back more to the nationalistic composers of the Romantic Era, rather than the experimental trends of other composers of the time. Sibelius was an artistic influence in the fight for Finland's independence from Russia, which is heard in "Finlandia." This concert also features Sibelius's "Karelia Suite" and "Andante Festivo," and most notably, Veronique Mathieu, violin professor from University of Kansas, on his celebrated "Violin Concerto."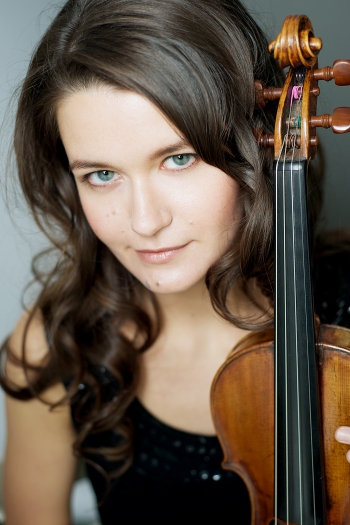 Canadian violinist Véronique Mathieu has performed as a soloist and chamber musician in Europe, South Africa, South America, and the United States. She is a prizewinner of the 2012 Eckhardt-Gramatté Contemporary Music Competition, the 2010 Krakow International Contemporary Music Competition, and a three-time winner of the Canada Council Bank of Instruments Competition. As a member of Trio Micheletti, she won the Grand Prize of the 2009 Competition in the Performance of Music from Latin America and Spain. Mathieu broadcast recitals for the Canadian Broadcasting Company, Radio-Canada, the Classical Radio in Costa Rica, and the Radio Suisse-Romande. She was recently invited to perform and teach master classes in Costa Rica for the series Promising Artists of the 21st Century, and is artist in residence at the Festival International de Musica Erudita de Piracicaba in Brazil. Mathieu is currently an assistant professor of violin at the University of Kansas, a visiting teacher at the Toronto School for Strings, and was previously on faculty at State University of New York in Buffalo.

The SKS is composed of both college students and community members and director Amber Peterson invites the public to attend this event.

"The South Kansas Symphony strives to provide musical memories for our audience with a variety of music for all ages," Peterson says. "Talented musicians drawn from the collegiate and public communities enrich the ensemble. In addition, we hope the new acoustically-crafted Richardson Performing Arts Center and Callison Stage transport your listening experience to another level."

The admission charge is $8 per person. For more information, contact Peterson at (620) 229-6113.