News
April 13, 2016
The South Kansas Symphony will perform "Prairie Potential," its final concert of the season, on Sunday, April 24 at 3 p.m., in the Richardson Performing Arts Center on the campus of Southwestern College. The performance has been generously sponsered by Dr. Gail Burden of Grene Vision Group.
The orchestra will be performing Masacangni's Intermezzo from "Cavalleria Rusticana" and Beethoven's "Symphony No. 6 'Pastoral'." The concert will also feature the winners of the 2016 South Kansas Symphony Concerto Competition, Thomas Mondry and Leslie Wofford. The symphony will accompany both concerto winners as they play movements from the Shostakovich's "Concerto No. 2" for piano and Mozart's "Concerto No. 1" for flute. The symphony is under the direction of Amber Peterson.
Mondry is a junior at Kapaun Mt. Carmel High School in Wichita and has played piano for ten years. He currently studies with Timothy Shook, professor of music and division chair of performing arts at Southwestern College. Mondry previously studied with Sally Buxton. He placed first in the three-piece senior division of the Kansas Music Teachers' Association state festival in 2015, earning the honor to play for the Kansas Music Educators' Association conference. He has also competed in the Kansas State High School Activities Association high school festival for three years, twice earning a top rating at state. After high school, Mondry plans to study mechanical engineering and music.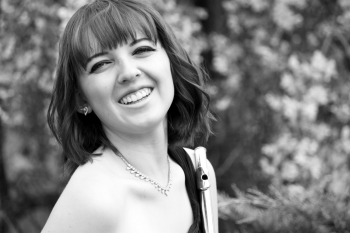 Leslie Wofford is a freshman at Southwestern College pursuing a bachelors of music in performance with an emphasis in flute. Shr currently studies with Rae Lynne Baker, principal flute of the South Kansas Symphony. Wofford is from Liberty Hill, Texas. She has been playing the flute since the sixth grade. In high school, Wofford was selected as a regional honor band mamber for four consecutive years. She also participated in Liberty Hill High School's concert and marching bands during high school. Wofford participated in the solo and ensemble festivals throughout high school, receiving a "I" rating on her solo during her junior yearand advancing to state level. She has also been an active participant in the Cole Family Summer Music Festival at Southwestern College for four years. Wofford was privilaged to receive a scholarship each year to the camp. Wofford's experiences with the Cole Family Summer Music Festival led her to discover that music is her true passion.
Aiden Wells, senior at Wichita East High School, and Caleb Renner, senior at Inman High School, will also be recognized during the program as Junior Division finalists in the 2016 South Kansas Symphony Concerto Competition. Additionally, Eva Farid, senior performance major at Southwestern College and violinist in th eSouth Kansas Symphony, will be recognized as a finalist for the Senior Division.
Tickets for the concert are $8.
"In recognition of our concerto comeptition winners, high school students will be admitted free to the performance," Peterson says.
Southwestern College students, faculty and staff may also attend for free, although donations are always appreciated to support the symphony. Tickets are available at the door or can be purchased in advance by calling (620) 229-6272.
Southwestern College is a private institution granting undergraduate and graduate degrees and is affiliated with the Untied Methodist Church. About 1,600 students attend classes at the main Winfield campus, at six professional studies sites in Kansas and Oklahoma, or online around the world.