"All of our first three productions for next season ranked high on past surveys for both Horsefeathers patrons and the company," says Moon. "The fourth show provides our patrons with a musical thriller."
"All I Really Need to Know I Learned in Kindergarten" will open the 2000 season June 2-3 and 8-10. Based on the popular book by Robert Fulghum, the play's run will include a donor performance and is the traditional opening show that will help to underwrite the remainder of the season.
"Joseph and the Amazing Technicolor Dreamcoat," with music by Tim Rice and Andrew Lloyd Webber, will be the first of the season ticket productions June 15-18 and 22-25. The score is an eclectic, contemporary, tongue-in-cheek blend of calypso, '50s rock and roll, country-western, and vaudeville, all folded around the Biblical tale of Joseph and his jealous brothers who sell him into Egyptian slavery.
"The Man Who Came to Dinner" follows as the second season ticket production. It will be seen June 29 throughJuly 2, and July 6-9. It is the comedic tale of a dinner guest who slips and falls on the doorstep when departing. Six weeks of confinement follows and the homeowners' living room is monopolized by the irascible invalid.
"Sweeney Todd" finishes off the 2000 season ticket package July 13-16 and 20-23. This musical thriller tells the infamous tale of the unjustly exiled barber who returns to 19th century London seeking revenge against the lecherous judge who framed him and ravaged his young wife. The Demon Barber of Fleet Street's thirst for blood soon expands to include his unfortunate customers in a portrayal that mixes intense drama with moments of dark humor.
"Our hope with 'The Man Who Came to Dinner' and 'All I Really Need to Know,' is to cast them as intergenerational casts-with both company members and community actors," says Moon. "At a time when our community theatre is struggling about decisions about space, there are individuals in this community who want to be acting. There will be opportunities for them to participate."
"'Sweeney Todd' provides for our interest in the macabre," she says. "It isn't often that you get a mysterious thriller in a musical format instead of a play format, and there is not a writer that a contemporary company would rather do than Stephen Sondheim."
For more information on show dates or ticket prices, contact the Horsefeathers box office at (316) 221-7720.
Mark Your Calendar
March 10 (Friday): First-ever reunion of SC professional studies students, Wichita East Professional Studies Center, 2040 S. Rock Road, Wichita, 5 to 7 p.m.
March 11 (Saturday): Founders Day, dinner for President's Club and Heritage Club donors, program honoring Earl Spidel, Wroten Hall, main campus, 5:30 p.m.
April 9 (Sunday): San Diego area alumni gathering, Quality Resort/Mission Valley, 2 to 4 p.m.
Choir Tour (alumni personnel will travel with choir): April 12 (Wednesday): Augusta First United Methodist Church, 2420 N. Ohio, 7:30 p.m.
April 13 (Thursday): Pittsburg First United Methodist Church, 415 N. Pine, 7:30 p.m.
April 14 (Friday): Highland United Methodist Church, Bella Vista, Ark., 371 Glasgow Rd., 7:30 p.m.
April 15 (Saturday): St. Luke's United Methodist Church, Oklahoma City, Okla., 222 NW 15th, 7:30 p.m.
May 6 (Saturday): Los Angeles area alumni gathering, home of Glenn '44 and Eva Patton, more details to follow. For more information on alumni events, contact the alumni programs director, (316) 221-8334.
SC Fall Sports in Top 25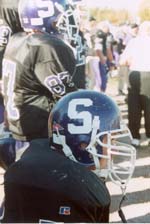 Southwestern's athletic teams were ranked 22nd in the nation in overall achievement by fall sports teams. The final rankings in the Sears Directors' Cup race were announced Dec. 30 in USA Today.
Southwestern's 113 point total reflected championship seasons in football and cross country, and much improved records in other fall sports.
The Sears Cup was developed as a joint effort between the National Association of Collegiate Directors of Athletics (NACDA) and USA Today. It is administered by NACDA and sponsored by Sears, Roebuck and Co. Awards are given to Division I and NAIA teams.
NAIA results are based on final fall results and include the sports of women and men'' cross country; football; women's and men's soccer, and women's volleyball. Points are awarded on each institution's finish in up to 12 sports (six for men and six for women) with each national champion receiving 100 points.
Live it Up at Homecoming
The event is months away but plans already are well underway for the first Homecoming/Reunion weekend of the new century.
Homecoming 2000 is set for Oct. 12-15, 2000, with new events added to popular favorites from past years. "Live It Up at SC" will be theme for the gathering.
For the first time, an academic program will be highlighted during Homecoming festivities. Education majors from all eras will be invited back to campus to participate in events and gatherings tailored to their interests.
In addition, reunion gatherings will honor alumni whose classes end in "00" or "05." This year individual dinners will be held Friday evening to allow honor classes to gather as groups.
Other highlights of the weekend will include the third BuilderDash fun run/walk; football versus Bethany, the morning parade, a theatre event, and an alumni banquet.
More information on Homecoming activities will be available through mailings, the Southwestern College Web site (www.sckans.edu) and the next issue of The Southwesterner.