One of the largest grants in the college's history will benefit alumni relations and development efforts at Southwestern College.
$397,000 grant from the Teagle Foundation was announced in late December.
The grant will be used to strengthen the institutional advancement efforts.
"This will have a tremendous impact on what we do and the methods we use to advance the college," says Paul Bean, vice president for institutional advancement. "It will help us broaden our reach, increase our knowledge, and enable us to do things that in the past we hadn't dreamed of doing."
The most immediate impact will be seen in the hiring of a Web producer, with specific duties to strengthen alumni ties through the Internet. Working out of the communications office, this Web producer will explore various means of improving the connection among alumni of the college, and the college itself.
The remainder of the grant will be used for several key initiatives:

Creation of an on-line alumni community. Key features of the community might include access to streaming video, allowing viewing of college events such as lectures, theatre performances, concerts, and games; chat rooms where alumni may meet with college faculty and administrators on subjects of mutual interest; classified ads by alumni for alumni; bulletin boards for posting job openings and resumes; information about alumni chapter activities, the work of advisory councils, and opportunities to assist the college through the alumni admission program.
Programs for Professional Studies Centers alumni. Consultation with PSC alumni indicates strong interest in programs and activities including seminars and training programs focusing on financial planning, career development, management and conflict resolution in the workplace, and trends in business; a PSC alumni communication vehicle (either print or on-line) to supplement The Southwestener; incentives for the children of PSC alumni to participate in Southwestern's summer sports and athletic camps.
Revitalized and expanded network of advisory councils. Revitalized program-specific advisory boards, as well as regional presidential advisory councils, are being organized.
New staff in institutional advancement, including a director of advancement research.
Counsel for a capital campaign, projected to have its public kick-off in the summer of 2002.
Professional development for institutional advancement staff, allowing the staff to learn "best practices" in the field and to establish networks of colleagues with whom to share questions and ideas
Administrative changes at Southwestern College are underway. Within weeks, several major positions will see new personnel:

Southwesterner Named Top Tab
The Southwesterner,
Southwestern College's alumni tabloid, received a top award during the Council for Advancement and Support of Education (CASE) District VI meeting in January.
The tabloid was named a bronze award winner in competition with colleges and universities of all sizes from throughout the Midwest. The alumni tabloid of Wichita State University received the gold award, and The Southwesterner shared the bronze award with the University of Nebraska alumni tabloid. No silver award was presented.
"We were especially delighted by the award because of the quality of competition," says Sara Severance Weinert, SC director of communications and editor of The Southwestener. "To see that we competed favorably with large universities with much larger staffs was a great encouragement to our communications team."
Production of The Southwestener is a collaboration by communications office members Weinert, Karen Mages (graphic designer), Joni Rankin (communications assistant), and Jeff Rahm (student assistant). Also vital to the publication is Ralph Decker, coordinator of alumni records, who compiles the extensive alumni notes.
Alvin-See Ya Later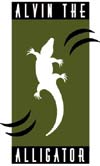 It may have been the most famous death ever suffered on the Southwestern Campus. But then, who among campus personalities was mentioned (by name) in recruitment brochures, visited by hundreds each year, and housed in a specially-built suite featuring a waterfall and pool?
Alvin the Alligator, the unofficial campus mascot for four decades, died as the new millennium began. He was found in his Mossman Hall gator-arium Jan. 11 by biology professor Patrick Ross.
The death of this campus personality (Alvin's was variously described as surly, unpredictable, and nonexistent) was greeted with widespread publicity-details of the passing were picked up by the Associated Press news service and reprinted in dozens of Kansas newspapers. Front-page stories, radio interviews with Alvin's keepers, and countless condolences for both students and faculty swirled around the event.
Alvin's legacy began in 1960 when vacationing members of the Pi Epsilon Pi fraternity brought a pair of six-inch 'gators back from a vacation trip. Roger Lungren, now a Winfield realtor, recalls that L.M. Neal and Joe Norton were original owners and originally kept the reptiles on the Neal farm north of Caldwell.
It wasn't long, though, before Pi and Ep (the original pair) became part of the campus scene, traversing the campus and attending football games at the end of custom-made leather leashes and harnesses. Robert Wimmer, SC biology professor, became the pair's unofficial keeper.
When Pi ate Ep, the survivor was renamed "Alvin" in honor of a character from the Pogo comic strip.
Alvin spent most of his life in old Mossman Hall, eventually moving into fancy new quarters with the opening of the Beech Science Center. Schoolchildren, prospective and current students, and visitors to campus made the pilgrimage to see Alvin usually sitting motionless next to the tropical waterfall in the alligator room.
Although some alligators live to be much older in their natural habitat, Alvin's death at age 40 is not considered premature, the biology professors say. Within hours of the discovery of the death, notes, posters, and an alligator-shaped floral tribute covered the glass windows of Alvin's home.
And the death and resulting autopsy revealed that Alvin had the last laugh on the spectators that had gawked at him throughout his life: Alvin was a female.
So what to do with the mortal remains of the college's most memorable critter? A Derby taxidermist now is in charge of returning the 10-foot corpse to a lifelike appearance.
Donations are being accepted to cover cost of the taxidermy. To read more tributes to Alvin (or to add your own reminiscences), visit Southwestern College's Web site at www.sckans.edu.