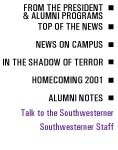 From Alumni Programs
It has been said that in a world of change, at least one thing can be relied upon: the joy of a warm "welcome home!" For most people, homecomings are journeys to be anticipated, enjoyed, and remembered. Homecoming 2001 at Southwestern College truly lived up to that description. In our busy, chaotic world, Homecoming provided a weekend to be savored; a chance to slow down and reflect on what we were, how far we've gone, and how we got to where we are now. With time, each of us can recognize the treasure that our Southwestern experience was in shaping our lives.
If you weren't able to "Come back. Have fun." at Homecoming this year, I encourage you to contact some of your friends who did attend and find out their thoughts about the weekend. Chances are, you should be able to find someone who was there. Over the course of the weekend, we totaled an estimated 2,329 attendees at Homecoming activities - and that does not include the volleyball, football or soccer games, the theatre productions, or the church service. However, if you missed Homecoming, all is not lost. Many alumni gatherings are being planned around the country. Check the Southwesterner or the SC alumni home page, www.sckans.edu/alumni, to find out what your alumni department is doing and the dates for future gatherings.
Meanwhile, Homecoming for 2002 has already been scheduled. Mark your calendar now for Oct. 18, 19, and 20, 2002. We'll be focusing on our business alumni, including inauguration of the Southwestern College Business Hall of Fame. Note the deadlines for nominations of all our halls of fame - Jan, 30, 2002, for natural science; March 31, 2002 for education; April 1, 2002, for business; and May 31, 2002 for athletics.
Don't forget, if you have questions about any upcoming alumni and friends regional events, call me at 1-800-846-1543 ext, 6334, or e-mail at slowe@sckans.edu. Great things are in store for SC alumni and you won't want to miss out on the fun!


Susan Lowe '95
Director of Alumni Programs
Go the Scrapbook to view pictures from SC's 2001 Homecoming.