Helpdesk Staff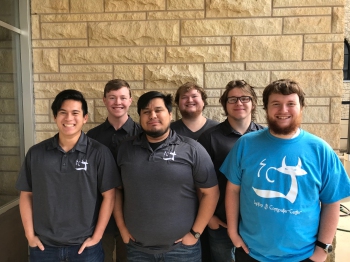 ---
Tim

Tim is the Head Student Technician at the SC Helpdesk. He's currently a Senior enrolled in the Computer Science program under software design. Tim has been interested in computers an technology since the first grade, and now spends his free time playing video games, creating programs, scripting for video games, and expanding his knowledge of programming languages.

Craig

Craig is from Wichita, Kansas. He is a Junior majoring in Computer Science. Craig is currently involved in Track and Field where he is one of the team captains. He competes in the throws. He is also the president of the gaming club and helps lead the FCA club here on campus. In his free time Craig likes to play video games, board games, watch movies, and hang out with friends.

Josh

Josh hails from Ada, Oklahoma and is currently studying Accounting. He is also a Tennis player and a Junior. In his free time, he enjoys drawing, playing games, exploring, and playing tennis.

Kodie

A Topeka native, Kodie is a junior in Computer Science, studying to make graphic art for game development.

Aaron

Aaron is a freshman majoring in Business. He enjoys playing video games and hanging out with friends. His favorite foods are seafood, Italian, and Thai foods.

Geoffrey & Casa

Geoffrey and Casa are from Winfield. You'll often find them running around in the Helpdesk or up in the Christy IT department. In their free time away from work they enjoy playing ball, naps, going outside, and most of all, treats!