Early Childhood
Bachelor of Arts in Education Degree
with a Major in Early Childhood Education
GENERAL REQUIREMENTS
The education program requires 33 semester hours of general education courses and liberal arts courses for teacher certification.
Degree Major Requirements: Licensure will be Birth to Age 8
311 Introduction to Early Childhood Education
325 Motor Development, Expressive Arts, Social Studies
333 Teaching Young Children with Disabilities
335 Infant Development
336 Introduction to the Reading Process
339 Assessment Strategies
343 Home, School, and Community
420 Oral Language Development
425 Administration, Guidance, and Behavior
429 Assessment in Early Childhood Intervention
432 Technology in Special Education
435 Science and Math
Minor Requirements (15 hrs.):
311 Introducation to Early Childhood
12 additional hours from the major

Professional Course Requirements (with the exception of 150, 215, and 216 these courses are open only to students who have been admitted to the teacher education program):
150 Introduction to Education
215 Foundations of Education
322 Educational Psychology
323 Introduction to Exceptionalities - taught on campus and in a Professional Development School
437 Elementary School Methods and Management
440 Student Teaching Seminar
446 Observation and Supervised Teaching in the Schools
Career Opportunities with a degree in Early Childhood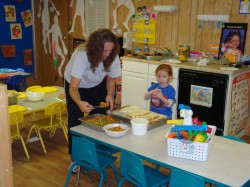 The Early Childhood program of study combines early childhood education and early childhood special education into one license birth through age 8. Early Childhood pre-service teachers have experiences with all ages of children. During the student teaching experience, placement occurs at two grade levels. Southwestern College has an on-campus pre-school which provides observation and innovative teaching practice. Southwestern College also partners with several special education programs in the country such as PALS (Preschool and Language Stimulation), REACH program, and other early child care centers. Students in the program are also provided opportunities to gain clinical experiences working at other elementary schools in Cowley County. Our program also provides some connection with child care centers, and public schools in China.
A few of the career paths available after graduation are:
Licensed Preschool-Kindergarten teacher in public school settings
Licensed first grade-third grades teacher in public school settings
Licensed special education teachers working with children birth to eight-years old
Homecare provider
Early interventionist
Travel, study and/or work in public schools, orphanages or other child care settings in China with specially chosen mentors
Be a global educator for the twenty-first century