News
December 03, 2013
"Holiday Sleigh Ride," a free Christmas concert  featuring the South Kansas Symphony and choirs from Southwestern College, is set for Sunday, Dec. 8, at 3 p.m. in Richardson Performing Arts Center. The arts center is located in SC's Christy Administration Building.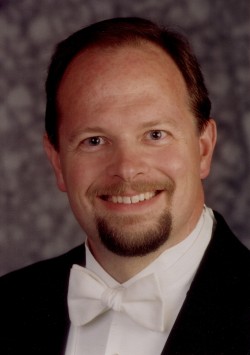 The event will be the final one directed in Winfield by Southwestern College director of choirs David Gardner.  Gardner is leaving Southwestern to become director of traditional worship and arts at University Presbyterian Church in Seattle, Wash.

When asked what he will miss most about Southwestern, Gardner was quick with a response.

"The students, that's easy," Gardner says.  "All semester long, every time I meet with them at noon, I get this twinge of melancholy.  I absolutely love working these students."

The centerpiece of the choral section of the show is the "Gloria" by Antonio Vivaldi.

"I chose it, in part, because it is the very same work that I did my first Christmas here 10 years ago," Gardner says.  "It's a great work and I absolutely love that piece."

It will be performed by the college choir along with about 15 community members and alumni, and with a small orchestral ensemble including Jim Leland on harpsichord.

Featured soloists in the choral portion are Deborah Martin, Kaitlyn Holler, Bailey Tadtman, McKenzie Wheeler, Jasmine Jackson, and Dylan Moore.

Among other pieces, the SC Singers will be performing a cover of Pentatonix's "Carol of the Bells."

Holiday Sleigh Ride is sponsored by Dick and Joan Jones.  There is no admission charge to attend.  For more information, call (620) 229-6272.