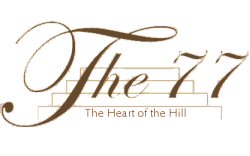 Jeanette Doughty Wandmacher '45 saw herself on the steps of the 77 when she read about the Heart of the Hill effort being launched as part of the Builders of Excellence capital campaign.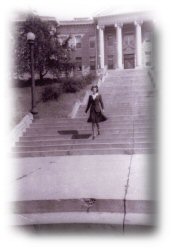 "I was a music major, but a more recent graduate would not know that this meant climing how many stair steps inside old North Hall up to the fourth floor where the music department was located," Jeanette writes. "Since I worked as secretary to the dean of fine arts every hour that I was not in class, this meant going down to the first floor and up the 77 to Richardson Hall (or up the path through the trees-is it still there?) for the mail and back down the 77 and up to the fourth floor each morning. The same down and up routine was true for classes in Richardson - back to the office or classes in the music department - or up to Richardson for A Capella choir or orchestra or band or down to Smith Hall for lunch - back up the 77 or...or... Can anyone estimate how many thousands of steps that entailed during my four years plus three summers at Southwestern?
Today Jeanette is a healthy, active 80-year-old still teaching in her multimedia piano studio in Roslyn Hills, N.Y. She's now on her third computer since 1987 with a desktop full of theory programs and which is MIDI'd to a Yamaha synthesizer. In her studio there are also two Roland digital pianos each with a sound module and sequencer, and a Roland E-35 synthesizer.
"Do you suppose all that exercise from the fall of 1941 to the spring of 1945 is responsible for my current good health?" she theorizes.
For more information ont he Heart of the Hill campaign to replace the crumbling 77 steps, contact Paul Bean, vice president for development, at pbean@sckans.edu or (620) 229-6286