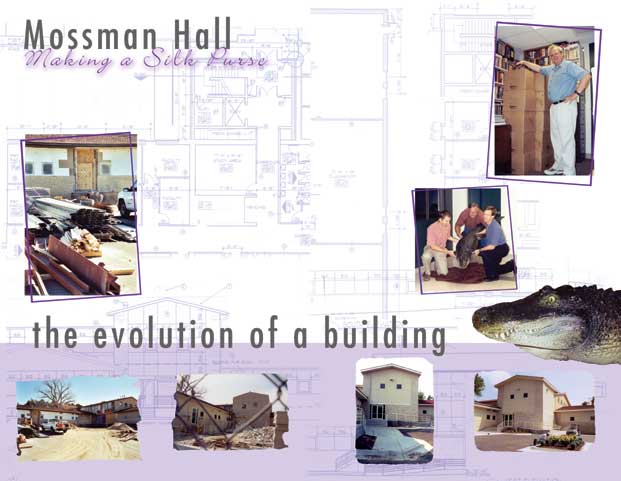 Mossman Hall: Making a Silk Purse
You notice the smell first. Or rather, you notice first that it doesn't smell. Open the door of the newly-renovated Mossman Hall and all olfactory traces of the old science facility have disappeared in a $1.7 renovation. When students returned for fall classes, they found work completed and the building ready for occupancy. Now business, social science, nursing, and leadership departments are busy making the new/old building their home. Even Alvin the Alligator, dead since 2001, is newly-renovated: The stuffed version will move into his Mossman suite soon.
Some summers, after the final graduate crosses the stage and the final dorm key is returned, life on a college campus turns lazy. Activity seems to be measured in inverse proportion to the thermometer reading.
Not the summer of 2002 on the Southwestern College campus, and especially not for the plant operations staff.
With the opening of the newly-renovated Mossman Hall, faculty groupings that had long been dreamed of became reality, and reality arrived in packing boxes.
In all, 58 faculty office moves were made. Some faculty moved to new offices. Now, for example, the business administration faculty is located in a new suite in Mossman Hall, as is the social sciences faculty, and the leadership faculty.
Some faculty moved to new locations. All language faculty (English and Spanish) now occupy offices in the upper floor of Christy Administration Building. Computer and communications faculty are grouped in the lower level of Christy, and the Center for Academic Technology moved up in the world two floors from the basement to the second floor of Memorial Library.
And some faculty moved to new offices in old locations. Because their offices were part of the Mossman renovation, nursing faculty members moved twice-out of the old offices, and back in when new offices were finished.
Early on the plant operations guys lost track of how many boxes, chairs, books, and file cabinets they schlepped up and down the 77 steps. Phil Schmidt, for example, had accumulated 76 boxes of stuff during his 34 years in the basement of Christy.
Some of the challenges were unanticipated. Even though Tod Megredy moved only a couple of hundred yards, from the top floor of Christy to the lower level, the move turned complicated when his desk (one large enough to have its own gravitational pull) was installed against the wrong wall and had to be completely dismantled and reassembled to become functional.
Still, when the dust had cleared, professors were delighted with the change. The grouping of departments, and the new classroom and research facilities in Mossman had them beaming in spite of the inconvenience of being displaced. Faculty chair Sharon Shetlar, one of the nursing faculty who had hop scotched offices for six months, put it in perspective at the first faculty meeting.
"I still have six boxes to unpack, but isn't this great?"