Dutch Creek: A Classroom Without Walls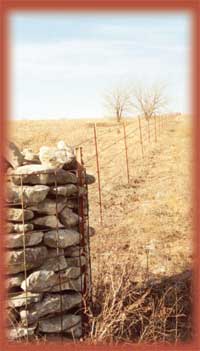 It doesn't look much like a class sometimes, when Charles Hunter or Michael Tessmer calls the Planet Earth roster to order.
Order, in fact, is in the eye of the beholder during these integrative studies courses. There might be a pair of students setting up a seining net, or another gaggle of freshmen squishing through the mud that high water has left. Another might be peering at a freshly-discovered set of tracks.
If this doesn't look much like a class, perhaps it's because the setting doesn't look much like a classroom.
Welcome to the Dutch Creek Field Station, Southwestern College's newest biology lab.
In contrast to the high-tech facilities and state-of-the-art equipment of the four-year-old Beech Science Center, Dutch Creek is decidedly low-tech. But as biology professor Charles Hunter points out, the 240-acre site 10 miles north of Winfield could not be more ideally suited for learning.
Nestled into the rolling hills are Dutch Creek itself, ponds, riparian streamside habitats, oak woodlands, and both upland and lowland prairies. With the creek marked off into seven study sites, it easily accommodates up to the 40 students who might enroll in the Planet Earth course each fall. These students, a cross-section of SC students that represents every major, spend four laboratory sessions, in Hunter's words, "doing science" as one component of a class dedicated to teaching students about environmental issues and the scientific process.
They follow a curriculum that emerged with the help of a National Science Foundation grant a few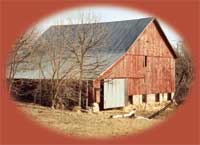 years ago: a couple of class sessions spent observing and describing, another two sessions spent coming up with scientific questions, a hypothesis, and testing of the hypothesis.
The large classes are broken up into lab groups of 10 to 15 persons, and these groups are further divided into groups of three students each. Upper-class lab assistants (biology majors) serve as mentors for each field group.
"We know students can learn science better by doing science," Hunter says, "and when we're out here, they're truly doing science."
Each site on the creek includes both a riffle and part of the pool, a pool that only a few yards down from the riffles has deepened to more than five feet and stretches 40 feet or more across. Upstream springs keep water flowing through the rock-bottomed waterway, even during Cowley County's recent drought.
And each of the separate elements has its separate attractions: bass, sunfish, and catfish in the pool; minnows and darters in the riffles; turkey, deer, and other wildlife around the edges. Spread throughout the site are a wide diversity of tree species dominated by burr oak, hackberry, green ash, and bitternut hickory.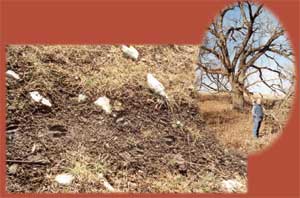 So how do students react to the opportunity to spend a few hours each week with their toes in the water?
Hunter's face crinkles into a smile as he considers his students.
"It's been kind of surprising, but our experience has been that the men have tended to be the sissies," he teases. "The women can be in the water up to their waists, and never complain a bit." (Hip boots, of course, are available to students who prefer to avoid the muck.)
Evaluations of the course, though, are almost unanimously positive. Students value the learning experience and value the opportunity.
So what is the future of the Dutch Creek field station? Plans already are in the works for making it even more useful. A small milking parlor, for example, could be converted to a rudimentary laboratory, with microscopes and other scientific equipment, for examining samples on-site. An old barn has potential as a staging area, making it possible to invite elementary school children to use the site for field trips. "It won't be the Chaplin Nature Center, but it could be something similar," Hunter says.
Other SC classes also have started to use the site: Art students have spent time at the site drawing landscapes. A general zoology professor has used it for his students to study animals and their habitats, and it's used in ecology and other biology classes. The field station will be key to an SC's summer enrichment program for high school students, an environmental biology camp that will use the field station on a daily basis.
The site will need skilled management to make it continually useful. The grasslands will need to be burned, for example, and as Hunter dryly observes, "the neighbors aren't too thrilled about us letting the college kids burn it."
But come next fall, when the geese are flying overhead and leaves turning their fall colors, SC students will be doing science at the Dutch Creek Field Station.
Class, in session.
The Gift That Grew Gradually
Like the oaks that shade Dutch Creek, the gift that made it part of the college matured gradually. As a long-time friend of Floyd and Edna Moore, President C. Orville Strohl knew the Wichita couple might be interested in a legacy that would carry on Floyd's interests as an educator (he taught high school), and Edna's interests as owner of a flower shop (Moore Flowers).
Strohl introduced development officer Earl Spidel to the Moores during the early 1970s. In consultation with biology professor Max Thompson and farm manager Tom Schnittker, Spidel encouraged the Moores to give the tract of land (nearly 700 acres) to Southwestern College. About 240 acres would be used as the Dutch Creek Field Station, the remainder would be sold and the proceeds used to benefit the college's endowment. So last October, when the estate gift was deeded to Southwestern College, the Moores' wishes were fulfilled. The generosity of benefactors, the long-term involvement of Southwestern administrators, to benefit students.