Syllabus: Nursing Projects Bring New Perspective to Caring Career
By some standards, Pam Jones' experience in one nursing course was a failure. After all, she failed to accomplish her major goal in Supporting Care in Chronicity class—to "fix" someone.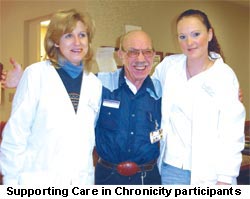 This class, which gives students first-hand experience caring for persons with chronic conditions, is required of senior nursing majors. They complete projects in such settings as the Kansas Veterans' Home, the Eagle Nest women's self-help center, or local hospitals. Each interviews three residents, then designs a project based on the interviews.
Jones chose to do her project at the veterans' home, and by her own description, set a goal characterized by wide-eyed optimism.
"I went in thinking I was going to fix someone up," she admits.
The first resident she worked with, though, was wheelchair bound and wanted to walk with a cane. Physical therapy experts informed Jones this goal was too ambitious. The second resident, although legally blind, had no interest in the books on tape Jones suggested.
Finally, a third resident revealed to Jones that he loved horses. She designed a project based on this interest, and successfully completed the course. But the lesson this nursing student learned was far more wide-reaching than this single resident: She learned that "fixing" isn't always easy, and sometimes is impossible.
And this was exactly what her professors hoped Pam and her classmates would learn. Martha Butler, head of the nursing division, says the goal of nursing education at Southwestern College is to prepare students for a career that involves holistic health care. Sometimes, this means developing interventions for coping with a medical condition; sometimes, holistic treatment means dealing with other issues.
To this end, students are involved in preventive projects such as health fairs, assessment projects such as blood pressure screenings, educational projects including parenting workshops for young mothers, and other events.
Many of the group projects are organized through SCANS, the Southwestern College Association of Nursing Students. SCANS draws in nearly all of the nursing students, with the strong encouragement of nursing faculty.
"These activities are not necessarily part of the nursing curriculum, but they are part of the nursing experience, so they're valuable preparation," Butler explains.
And as they participate in the community activities, the students are constantly aware that they represent themselves, their school, and their future profession.
"Regardless of what nursing role we decide to take on, we are representing nursing to the community, and what we do reflects on nursing as a whole," says senior Joie Tedder. "There's thinking involved, there's critical analysis that goes along with the title 'nurse,' and we want the best for nursing."