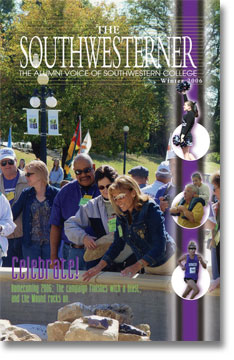 COVER
Homecoming Celebration—a new rock for the new Mound, football and cross-country winners, and President Emeritus Carl Martin supports the college (and a grandson).
Photos by Sunni L. Sheets, April McCormick '08, and Sara Morton '08.

SECOND COVER
Holiday Greetings! The first annual Christmas tree lighting in 2005 sets the stage for a new tradition at Southwestern College. Photos by Shan Szetho '05.