John Nichols Responds to "Urgency of the Moment"
John Nichols' nickname when he was a cross country runner at Southwestern College was "Grimace."
He wasn't (he's the first to tell you) an especially pretty or talented runner. In fact, some of his finishes as part of Jim Helmer's teams in the mid-1980s were downright grim.
Nichols recalls that his most grueling college race was the 1986 NAIA national marathon. The temperature at the start of the race was in the mid-80s and humid.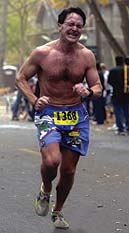 "Around the 17-mile mark, I began to pass a number of runners," Nichols writes. "However, truth in reporting, I did not pass anyone who was still vertical. Many dropped out of the race. One runner was lying on the side of the road while someone put ice on him to reduce his temperature. Shortly thereafter, a race official came up along-side me in a van and asked how I was doing. I responded that I've been better, but would be OK.
"About a mile later, the same van came alongside me again and the race official asked whether I would get into the van. I said no. I was going to finish. The race official then said, 'Don't be stupid, son ... you should get into the van.' I responded again that I was going to finish and asked to be left alone. The van then sped ahead and I didn't see it again. I later learned out the race official had located Coach Helmer to try to persuade him to pull me from the race by saying 'I think you're boy back there is in trouble, he looks really bad.' Coach Helmer laughed and told the race official, 'I've seen him look worse in workouts. He always looks that way ... and he always finishes.'"
But the way he looked wasn't nearly as important as what he was accomplishing: giving it his best. Today, this graduate with the class of 1987 says he learned some of his most important life lessons on the cross country course running for Coach Helmer:
Work hard, race hard, but keep something in reserve to finish.
Respect for the individual amplifies desire to win.
Team success is more important than individual success.
Compete to win; finish strong even when you can't.
And, maybe most vital, recognize and respond to the "urgency of the moment." He wrote about this Helmerism in a tribute to the coach when Helmer celebrated his 50th birthday.
"This is the tenseness in your gut when you feel your team's success or failure may be on your shoulders," Nichols wrote. "It's the recognition of those finite instances where everything you've been working for is on the line. There is sometimes no sense in saving anything for tomorrow. There might not be any tomorrow."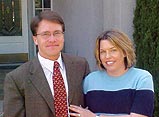 John now lives in California, where he is a partner in Accenture, one of the world's largest and most prestigious developers of computer information systems. He's also still running (he ran his first 50-mile race a few weeks ago).
"My years at Southwestern prepared me to achieve success in the business world. I've never had to apologize for the top-rate education I received at Southwestern. I was a business major, but interestingly, Southwestern's liberal arts curriculum provided the unique ingredients to my educational experience," Nichols says. "For example, sociology courses with Larry Wilgers helped me observe and understand the behavior of individuals and their interactions with complex organizations. I suspect Larry might find it amusing that he was helping prepare me to be a more successful capitalist."
John and his wife, Kelly (Broadhurst)'89, have made a gift of $25,000 ($5,000 per year for five years with 50% of this matched by Accenture) to the Builders of Excellence campaign, a gift that will support Southwestern and the track program that taught him these valuable life lessons. The gift, he says, is a response to the campaign's "urgency of the moment."
"The things we were able to do at Southwestern, the things we benefited from when we attended, stemmed from the contributions from others in other campaigns," he explains. "So in a sense, we're paying back a little bit of what has benefited us. It's easier to give when the economy is good and there is less uncertainty. But these difficult times are exactly when Southwestern needs our financial support the most.
"Running for Jim Helmer broadened and deepened my educational experience and helped prepare me for the business world," he says. "We all had opportunities given to us by those who preceded us. The Builders of Excellence campaign is a chance for us to take the baton and run our leg of this relay race."
Photo: (right) John and Kelly Nichols.