Syllabus: SC, GE Bring Good Internships to Students
Collaboration between Southwestern College and a local manufacturing plant has led to valuable professional internships for students in the business administration department.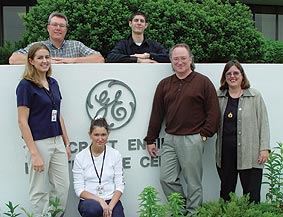 Thanks to the organizational work of faculty members Karen Schoenebeck and Michael Wood, outstanding students are being hired at General Electric Aircraft Engines, which has a facility at Strother Field between Winfield and Arkansas City. These students become part of the management team working responsible for finance.
Mark Hanna, who recently graduated from Southwestern's MBA program, supervises interns and calls them a valuable resource.
"Interns can do a lot of the preliminary analysis of numbers, which frees up administrators to make decisions and act on the analysis," he explains. "There is no make-work at GE for interns; we're making them part of our finance process."
Abby Brummett, who will graduate in December, hopes to parlay her internship into a career with GE. She has spent the past year working in the order/bill/collect area, and intends to apply for GE's finance management program. Although acceptance into the program isn't assured (she'll be competing with students from throughout the world for the coveted positions) she could not have applied without the internship.
Even without future employment, though, the experience is important, according to Schoenebeck.
"Internships differentiate students," she explains. "Those who have completed internships have real-world experience—they know how departments interact, how decisions are made. The internships are invaluable."
Photo: Internships are expanding the education of main campus business students thanks to efforts of SC faculty and GE staff: (clockwise, from left) Abby Brummett, Bucklin; supervisor Mark Hanna '03, financial planning and analysis leader at GE Engine Services; Kalan Powers, Wamego; Karen Schoenebeck, assistant professor of business and director of MBA program; Michael Wood, assistant professor of business and finance and chair of business division; and Grabrielle Shimek, Winfield.
(Note: Syllabus is an ongoing feature of The Southwesterner that focuses how professors are helping make a difference in the lives of their students.)