Ward M. Cole Hall: Finest Facilities - and Friendships
Southwestern College's newest residence hall has been without an official name since it opened for freshmen women in the fall of 2001. On April 17, 2004, that will change during naming ceremonies that will be part of Founders Day.
Ward M. Cole Hall honors a man who has been a lifelong supporter of the college as a trustee and as a financial supporter who recently confirmed a $1 million gift to the Builders of Excellence campaign.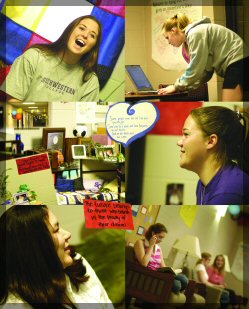 Friendships in Cole Hall: Shown from upper left are freshmen Sarah Benton, DeAndra Holt, Amanda Willhite, Becky Jarvis, and hall director Dawn Spielman
When Pat (Ridgway) Milburn '56 and Shirley (Marsh) Everhart '56 were roommates in Holland Hall in the mid-1950s, they lived in a hall that wasn't luxurious, even by the standards of the day.
The first floor had one bathroom for all of the women living in the hall—sinks and mirrors lined one wall of the room, open stools (no stalls) were on the other side, two showers were shared by a residents who rushed to bathe before the hot water ran out.
You would think that the girls who lived there would talk of those days in shuddering tones, recalling deprivation in hushed voices.
You would be wrong.
Pat and Shirley loved living in Holland Hall.
"I feel unbelievable bonding and friendships developed from the intimacy of our living arrangements that provided for unusually strong acceptance and inclusion in our Holland Hall family," Pat says.
Fast-forward half a century.
Amanda Willhite and Sarah Benton are roommates in the newest living facilities on campus, the women's residence hall that will be named in honor of Ward M. Cole during Founders Day activities April 17, 2004. (see related story below)



Pat (Ridgway) Milburn '56 (left)
Shirley (Marsh) Everhart '56 (right)
To get to their room on the second floor of the three-story building, you go through sun-dappled lobbies with wireless internet access, past rows of washing machines and dryers, turn left at the big screen TV with DVD player. Then, as step over the welcome mat and enter their room, keep going past the sink and mirror just outside the door to the private bathroom with its color-coordinated towels, and past two closets—one for each resident—and past the refrigerator and microwave. Now take a look.
The room seems enormous, perhaps because the lofted beds give plenty of room for two desks (each holding an open laptop computer), and two dressers (one with a large television on top). A huge easy chair and ottoman offer cozy relaxation under the patchwork curtains.
Amanda and Sarah love living in Cole Hall.
Friendships, not facilities, are the backbone of the Southwestern College experience. But, oh, what facilities these are.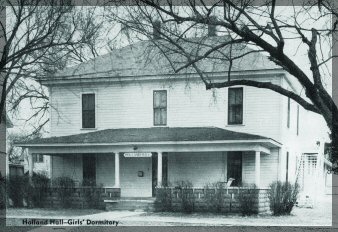 The women's hall has space for approximately 100 freshmen and new transfer women. It has been used year-round, with conferences and family gatherings in the summers.
"We definitely are on the cutting edge for living facilities in private colleges," says Tami Pullins, associate dean of students and director of housing. "When I go to conferences, people are talking about upgrading their spaces to have two rooms share one bathroom—and we did that decades ago."
The hall was designed specifically to appeal to incoming women students and their parents, according to vice president for enrollment management Steve Wilke.
"When we were planning the hall, there was national evidence (that we found to be true) that one of the toughest transitions to college is for female students leaving home for the first time," Wilke says. "The aesthetics, the safety, the privacy were more important for these daughters and parents than for males and their parents, or for women who already had lived away from home."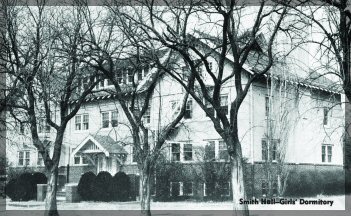 As a recruiting tool, the hall has been a hit, and Wilke credits part of last fall's record enrollment to Cole Hall. New freshmen women consistently put the residence hall among the top three reasons they chose Southwestern College, and Sarah and Amanda often host soccer players who are considering enrollment at Southwestern.
"The last recruit we had here called all her friends so they could come over and see the room," they say.
But while the facilities have changed in the past five decades, young women, down deep, have not. Socialization still is the most important part of living in a residence hall.
Dawn Spielman has been the hall director since it opened, and her eight-month-old daughter, Madison, has become the unofficial hall mascot.
"I watch these girls in the lobby, and they're having study groups, or Bible studies, or sitting around watching a movie together with their laptops open—and then I notice they're instant messaging the girl across the room!" she says with a laugh.
So the women of Cole Hall appreciate their surroundings, and Dawn and Tami still are struck by the sheer beauty of the women's hall. But they know what's important.
Unbelievable bonding and friendships developed from the intimacy of living arrangements—Holland Hall in 1951, or Cole Hall in 2004, some things don't change.
Story by Sara Severence Weinert, photos by Josiah Chieng '04
---
Ward M. Cole was born Aug. 11, 1908, on a limestone-laden 120-acre hilltop farm three miles north of where this residence hall stands today.
Left fatherless at 10, Ward, his siblings and their mother worked hard to scratch out a living on the farm. He learned to balance the opportunities of the classroom with the realities of farm life.
Fortunately for the reluctant farmer, several relatives and neighbors were instrumental to him in pursuing his dream. Because of their generosity, Ward was able to start life as a freshman at Southwestern in the fall of 1926.
In Ward's senior year at Southwestern, he was awarded a scholarship to work in biochemistry at the University of Kansas – the work began immediately and he actually finished his Southwestern degree while doing the studies at KU.
During his time at Southwestern, Ward met up with a young coed working part time in the administration building. Like Ward, Ruby Hill had grown up in the Winfield area but was a "townie." The farm boy was not shy in trying to get acquainted with the popular Ruby. The relationship quickly developed and, on Christmas Eve 1929, the young couple was married and formed a bond that was to last more than 45 years.
Ward M. Cole at Southwestern College
Graduate, 1930

Board of Trustees, 1954-present

Namesake of elevator addition to Christy Administration Building, 1998

Honorary doctoral degree, 2001

Namesake of woman's hall, 2004
After Ward received a master's in biochemistry from KU he entered medical school there in 1932. With roots firmly planted in southern Kansas, he sought out a position in his home area following graduation and internships. Eventually, the young physician found a nearby town where he was to practice for the next 50 years - Wellington.
The young couple had barely established themselves and started a family when Pearl Harbor was attacked and the doctor was called to service. Cole served in the Army medical corps in the Aleutian Islands until the war ended in 1945. Dr. Cole then returned to Kansas to resurrect his fledgling medical practice and see his family grow. Within a few years, the Cole family had grown to seven, including four sons and a daughter (two of the children would later attend Southwestern).
Over the next 40+ years, Cole worked hard not only providing medical care to the community, but also serving his community. He served more than 10 years on the school board (including time on the State Board) and was active in numerous church activities, Scouts, 4-H, and community functions. He was also instrumental in the planning of the new hospital in Wellington built in the early '70s. Ward Cole's civic-mindedness took a new direction in the early 1960s when he (and his family) assumed responsibility for running and improving the Wellington Airport operations.
Retiring at 80, Cole continued his efforts to make sure Wellington excelled in education, growth, and hometown spirit. At age 92, Cole helped champion the ambitious $26 million building campaign that resulted in a new high school and numerous school improvements for Wellington.
An active trustee at Southwestern College from 1954 to 2000, Ward Cole did whatever he could to repay the institution that had given him his start in life. Ward and Ruby Cole started a series of endowed scholarships that would enable scores of students to continue their studies at Southwestern.
His generosity also included providing major funding for the elevator in the Christy Administration Building, which provided handicap accessibility to the top floor for the first time. In 2001, he was presented an honorary Doctorate of Medical Science.
Today, 77 years after he first climbed the 77 steps, Ward Cole is still an unabashed fan and promoter of Southwestern.
- Compiled by Candy Cole