News
April 15, 2014
Outstanding faculty and staff were recognized at Southwestern College by the college's board of trustees. Four awards were presented Monday, April 14, for outstanding service to the college, and 25 employees were honored for years of service.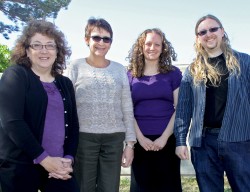 Presented were the Fassnacht Outstanding Administrator/Staff (Campus) Award to Terry Quiett, web producer; the Fassnacht Outstanding Administrator/Staff Award (Professional Studies) to Julie Galliart, assistant director of faculty for Professional Studies; the Fassnacht Outstanding Faculty Award to Tammy McEwen, assistant professor of biology; and the United Methodist Exemplary Teacher Award to Jackie Glasgow, assistant professor of education and student teaching coordinator.
Tavinia Tucker, president of the Student Government Association (SGA) at Southwestern College, presented the SGA faculty and staff citations during the ceremony. The staff citation was awarded to Pam Olney, social science and business faculty assistant. The faculty citation went to Tammy McEwen.
"These are wonderfully talented people who exemplify the best of the Builder Spirit," says Andy Sheppard, vice president for academic affairs and dean of faculty at Southwestern. "The awards express the community's appreciation for the subtle leadership and service that these colleagues provide to others on a daily basis."
Awards for years of service were also presented for:
• 40 years: Charlie Hunter
• 25 years: George Gangwere and Sara Weinert
• 20 years: Dawn Pleas-Bailey, Rodney Worsham, and Terry Quiett
• 15 years: Larry Fisher and Leslie Grant
• 10 years: Dennis Love, Amber Good, Brad Sexson, Melinda Current, Misty Terrill, and Jessica Falk
• 5 years: Brandon Hessing, Brendon Fox, Jason, Jeschke, Jimmy Jordan, Julie Galliart, Lonnie Boyd, Matt O'Brien, Mike Farrell, Stephannie DeLong, Tad Humphrey, and Janet Butler.