Business (MBA)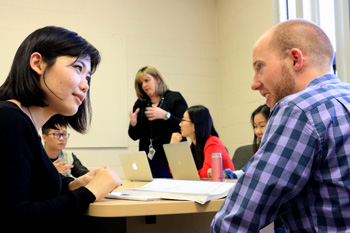 The Master of Business Administration program at Southwestern provides relevant, real-world knowledge, applicable to today's globalized companies. This graduate program is designed to offer students a diverse cultural environment on campus with additional opportunities for study abroad in China. Our faculty have years of real-world business experience in areas such as: Change Management, Accounting and Finance, Human Resources, Globalization, Economics, and Marketing.
The masters programs are designed for students interested in earning their degree on the beautiful Southwestern College campus in a flexible, convenient format. The program benefits include:
All undergraduate majors will be considered for admission to the program
Intensive eight-week classes/completed degree in one year
Most campus breaks and holidays observed
On-campus housing available
Students with remaining eligibility can play a sport while earning an advanced degree
Students wishing to remain involved in performing arts and other campus activities may do so
No application fee
Competitive tuition rates
Personal attention throughout your degree program
WHY WAIT? APPLY TODAY!
Questions?
Telephone: (800) 846-1543 ext 6236
E-mail: scadmit@sckans.edu