Homecoming

Homecoming 2021 Photos
View Homecoming photo galleries
---
Homecoming October 29-31, 2021
Details subject to change.
Friday, October 29
2-5 pm Registration and Welcome | Christy Lobby
2-5 pm Moundbuilder Gear Pop Up Shop | Christy Lobby
5:30 pm Registration | Roy L. Smith Java Jinx Area
6-7:30 pm All Class Dinner | Roy L. Smith Dining Hall- Reservation required, limited seating $25/person
7 pm Men's Basketball Alumni Game | Stewart Fieldhouse
7:30 pm Kaleidoscope | Richardson Performing Arts Center
Saturday, October 30
9 am Homecoming Parade | Main Street, Winfield
10 am Athletic Hall of Fame | Roy L. Smith Dining Hall
Dale Dolezal '95, Ericka (Franklin) Joiner '09, Rich Jantz '70, Pat Johnson '99, Ngan (Nguyen) Morris '01, and Tyler Lytton '08/'10
10 am Builder Block Party and Registration | Wallingford Lawn and Old Tennis Court Area
Worship Outreach Concert, Rock Painting, Face Painting, Photo Booth, and so much more!
10:30 am - 12:00 pm Communication, Computer Science, and English Reception | Basement of Christy
Reception for former Collegian staff, Moundbuilder staff, SCTV and radio staff, Carpe Nocturnum editors and contributors, UpdateSC editors and contributors, English majors, communication majors, digital arts majors, computer science majors, game developers, veterans of Advance Grammar with Dr. Wroten, and other lovers of words, images, language and literature.
11 am-1 pm Homecoming Tailgate | Under the Tent in Old Tennis Court Area
11 am Builder Baseball Annual Costume Scrimmage | Broadway Sports Complex in Winfied
12 pm 51+ Reunion | Winfield Country Club - Reservation Required
1-4:30 pm Moundbuilder Gear Pop-Up Shop | Richard L. Jantz Stadium
1:30 pm Homecoming Football Game VS Sterling | Richard L. Jantz Stadium- Register for Homecoming and receive passes to the game! You must pick up your passes at registration or stop by the Builder Nation table in the Farney Family Plaza before the game
5 pm 50 Year Reunion Photo | Winfield Country Club
5-7 pm Reunion Dinners/Gatherings
5-8 pm Childcare | First United Methodist Church- $2/hour
5:30 pm Class of 1970 and Class of 1971 50 Year Reunion Dinner | Winfield Country Club- Registration required $30/person
Sunday, October 31
10:40 am Homecoming Worship With Guest Pastor Stephanie Wall Brown '93 | Grace United Methodist Church *MASKS WILL BE REQUIRED*
11 am- 1pm Brunch Buffett | Roy L. Smith Dining Hall
---
Register below based on how you intend to pay:
---
Need Builder Gear?
Our temporary pop-up shop is open until September 27. Orders will be fulfilled after the shop closes.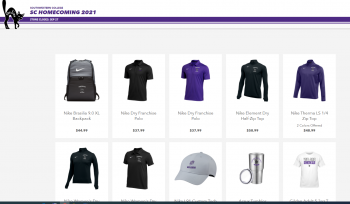 ---
Virtual Campus Tour
Has it been a few years since you've seen campus? Take a quick tour to see what SC looks like today!
2020 Moundbuilding Ceremony Highlights
The tradition we Builders know and love is still alive and well, even in these uncertain times. See some highlights from the 93rd Moundbuilding Ceremony!