Honors Program
The Southwestern Honors Program was created in order to provide exemplary students with enriched coursework and co-curricular experiences to encourage them to go beyond the boundaries of the traditional college classroom. Courses and activities in the Southwestern Honors Program foster the mindset that meaningful exploration and discovery necessitates an interdisciplinary approach in which answers are not limited to any one academic major. Honors students will engage in collaborative relationships with faculty throughout the college in order to promote a diversity of problem-solving and research skills. In addition, the Southwestern Honors Program embraces a sense of responsibility in that participants will receive opportunities to use their intellectual gifts to serve communities beyond the academic world.
Program Outcomes
Demonstrate academic excellence through an independent project that reflects original thought, talent, etc. related to one's discipline
Expand one's worldview through exploration and academic travel
Integrate knowledge gained from other disciplines
Develop a scholarly community both in and out of the classroom
Experience opportunities for leadership in and service to the community
Program Components
A distinctive first-year experience
A capstone senior thesis or project supported by contextual research and presentation
Interdisciplinary connection
Academic travel experiences
Opportunities for service and exploration as a cohort
Program Director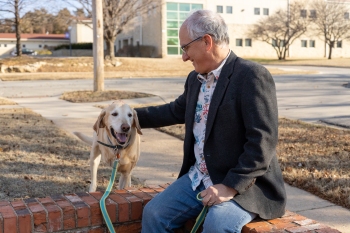 Photo: Dr. Patrick Ross, along with his assistant Kirby.
"My goal is to craft an Honors Program that reflects the core values of Southwestern College: interdisciplinary exploration, service learning, and building bridges while breaking boundaries. We will offer far more to students than just challenging coursework, our program will inspire students to find fun in journeys of academic discovery and exploration and it will implore them to use their big brains for good – to make a difference in the world." - Dr. Ross
Contact
Patrick.Ross@sckans.edu
(620) 229-6273