Richardson Performing Arts Center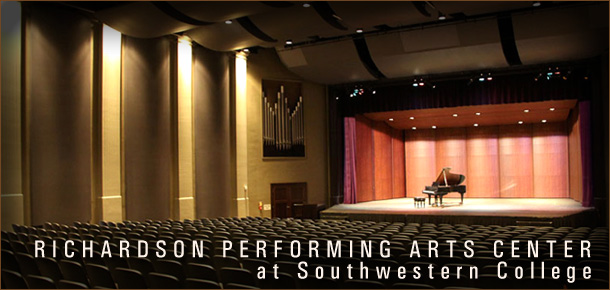 ---
Guys and Dolls
Dates: April 13-15
Adult: $12
Seniors: $10
Student (non-SC)/youth: $6
For tickets, email us at boxoffice@sckans.edu or call 620-229-6272.
"Hailed as the perfect musical comedy, this award-winning classic gambles with luck and love under the bright lights of Broadway. Damon Runyon's mythical New York City is the backdrop for Guys and Dolls. Gambler, Nathan Detroit, tries to find the cash to set up the biggest craps game in town while the authorities breathe down his neck; meanwhile, his fiancée and nightclub performer, Adelaide, laments that they've been engaged for fourteen years. Nathan turns to fellow gambler, Sky Masterson, for the dough, and Sky ends up chasing the straight-laced missionary, Sarah Brown, as a result. Guys and Dolls takes us from the heart of Times Square to the cafes of Havana, Cuba, and even into the sewers of New York City, but eventually everyone ends up right where they belong."
---
Stars Go Dim Concert | A Donna DeMint Memorial Benefit
Date: June 1, 2018 (Friday)
Time: 7:00 p.m.
Admission: $15
(Group discounts available - contact 620-229-6141)
This concert is a benefit for the Winfield Relay for Life with proceeds going to the American Cancer Society in memory of Donna DeMint.
The guys in the band Stars Go Dim are determined to use their musical gifts for one passionate purpose: letting people know about God's relentless love for them. Their song, " You Are Loved," from the album Stars Go Dim (2015) delivers that message like a clarion call.
---
2016-2017 Events
2/18/2018 - SKS Concert 3:00pm
3/3/2018 - CFSMF Scholarship Day
3/9/2018 - Emily Sternfeld Dunn CD Release Party 7:00pm
4/12/2018 - Honors Convocation 4:00pm
4/13/18 to 4/15/18 - Guys and Dolls
4/21/2018 - A Capella Concert 7:30pm
4/22/2018 - SCYS Concert 3:00pm
4/26/2018 - MTENS Concert 8:00pm
4/28/2018 - MTENS Concert 7:30pm
4/29/2018 - SKS Concert 3:00pm
5/1/2018 - SCPG Concert 7:00pm
5/3/2018 - Symphonic Band and Jazz Band Concert 7:00pm
5/13/2018 - Baccalaureate Services 10:00am
5/13/2018 - Graduation Streaming 1:00pm
5/18/2018 - JourneyKids Concert 7:00pm
6/1/2018 - Stars Go Dim Concert 7:00pm
Richardson Performing Arts Center Features
Comfortable seating, configured for continental seating with side aisles and extra leg room
ADA compliant seating area for those with mobility challenges
Excellent acoustics providing clarity for music and the spoken word
Attractive lighting and beautiful décor
ADA compliant restroom facilities
Devices to assist those with hearing problems are available in the box office
An exciting performance venue