Halls of Fame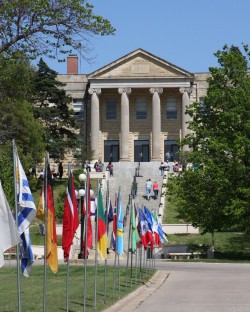 The Southwestern College halls of fame were established in order to honor individuals who have contributed greatly to their field of study, community, or in other facets of life. The college is known for its students who excel during their academic years and now recognize those who excel beyond the classroom and in their world without boundaries.
---
Fall Alumni Events Postponed
Dear Builders,
What an unusual year this has been. Over the past few months, Southwestern College and our COVID-19 Action Team have consulted with faculty, staff, students, the Board of Trustees, local public health officials, and members of the local community to prepare the College's plan for Fall 2020. I am pleased to share that we are re-opening for this upcoming academic year and look to welcome a record number of students to campus. We're doing so with many precautionary measures in place to maintain as safe an environment as possible.
Unfortunately, in coordination with all of these officials and in support of all that is necessary to safely open and operate this fall, we had to make the difficult decision to cancel all on-campus alumni gatherings through December 2020. This includes postponing homecoming reunions and alumni activities, the Athletic Hall of Fame, and the Natural Science Hall of Fame. Please know that all class reunions from this fall as well as the celebration of the incoming classes of the Athletic and the Natural Science Halls of Fame will be held next fall. We are simply postponing the celebration of these classes and these distinguished individuals. We are looking forward to next fall with great anticipation and enthusiasm, when we will get to welcome, celebrate, and honor so many great Builders.
To be sure, this is a disappointment for all of us as Builders, and your presence will be greatly missed on campus this fall. We did not reach this decision lightly, as our Builder family is very special to us. There will be opportunities for those celebrating reunions to gather virtually. As details are determined, they will be updated here.
Finally, during this time, I hope each of you will find opportunities to reach out to those friends and classmates you were most looking forward to seeing. If you need help making those connections, please contact us. We can't wait to celebrate with everyone for Homecoming 2021.
Sincerely,
Pat Wagner
Vice President for Institutional Advancement
---
2020 Founders Weekend | April 16-18
We regret to announce that our Founders Weekend celebrations have been canceled
Arrangements will be made to recognize our 2020 Hall of Fame honorees at a later date.
---
2017 Spring Hall of Fame Inductions
---
2016 Spring Hall of Fame Inductions
---
2015 Hall of Fame Induction Ceremony
---
2014 Hall of Fame Induction Ceremony